FireRescue1 editor, columnist recognized in IAFF Media Awards
FireRescue1 Executive Editor Chief Marc Bashoor and columnist Capt. Ben Thompson earned recognition in the multi-media and news categories
---
By Laura French
WASHINGTON — Two FireRescue1 team members have been recognized by the IAFF Media Awards for work produced in 2020.
The IAFF Media Awards Contest honors journalistic reporting that best portrays professional firefighters and paramedics as dedicated all-hazards responders.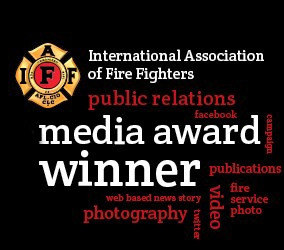 Birmingham (Ala.) Fire Capt. Ben Thompson, a FireRescue1 columnist, won second place in the category for news category, and FireRescue1 Executive Editor Chief Marc Bashoor, public safety director for Highlands County, Fla., earned an honorable mention in the multi-media category. 
In his winning news piece, "There was no one who could've held him back," Thompson shares a tribute to his friend Fire Captain Rodney C. Dodson, "a man of seemingly contradictory characteristics." Birmingham, Ala. Local 117 nominated Thompson's article, which delivers an honest and heartfelt eulogy for his colleague, who passed away last April at the age of 49. 
"Since the pandemic made it impossible for those of us to gather in remembrance of Captain Dodson, this tribute grew out of a need to honor his memory," Thompson said. "To have his story recognized by the IAFF is a testament to the biggest reason he meant so much to us. That no matter what our lives are like away from the job, when the bell goes off, all is forgiven if we know you can deliver. Captain Dodson could certainly do that." 
Bashoor earned an honorable mention for his multi-media piece, "A fire chief's plea to protesters: We can't help you if you don't help us," in which Bashoor sends both a written and spoken message to those who gathered to demonstrate against social distancing and stay-at-home orders during the early months of the COVID-19 pandemic. Bashoor asks protesters to think about the safety of those on the front lines of the pandemic, and asks for their cooperation in helping to "flatten the curve." 
"First responders sometimes find themselves in the middle of a public quandary, but they must figure out how to rise above the fray to provide the service, which is usually what happens," Bashoor said. "In the past year, the normally tepid waters of fire and EMS public opinion have become hot with political and cultural anger. I can only hope the public plea had some small part in lowering the temperature, for both communities and our providers."