Backdraft injures 4 Chicago firefighters
The firefighters suffered first- and second-degree burns after the flames suddenly intensified, forcing some firefighters to jump from a second-story window
---
By Rosemary Regina Sobol, Dawn Rhodes and Marwa Eltagouri
Chicago Tribune

CHICAGO — Four firefighters were burned in a backdraft that erupted during a blaze Sunday afternoon at a West Side residential building.
The fire, in the 4900 block of West Potomac Avenue in the city's Austin neighborhood, had been extinguished as of about 12:30 p.m., according to the Chicago Fire Department.
Four firefighters — two in their 50s, one in his 40s and a fourth about 30 — were injured and taken to Stroger Hospital, where their conditions have stabilized, according to the Fire Department.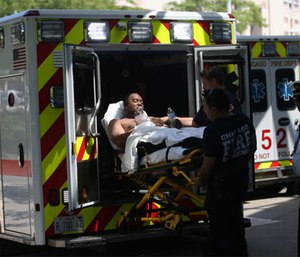 Additionally, five people were checked out by paramedics on the scene but declined to be taken to a hospital. Six people were displaced, according to the Fire Department.
The four firefighters suffered first- and second-degree burns after the flames suddenly intensified, forcing some firefighters to jump from a second-story window, officials said.
Chicago Fire Department Commissioner Jose Santiago said firefighters tracked the source of the fire near a kitchen on the second floor. As they entered into that area, the heat and size of the fire surged -- something often referred to as a backdraft -- forcing them to retreat, Santiago said.
"As the firefighters make entry, you may have a fire just sitting there, and the only thing it's lacking is oxygen," he said. "In order for firefighters to get in there, they're going to open doors, and it will start feeding that fire. Sometimes, it's like an explosion. They're engulfed in fire."
The fire also spread to the building next door, Santiago said.
The four firefighters taken to Stroger were "alert, awake and talking" as of Sunday afternoon, he said.
"They all had their masks on. That's why they're alive right now," Santiago said. 
Santiago said some firefighters had trouble with their water supply as they were inside the building. It was not clear what caused the issue, but Santiago said that and the cause of the fire are under investigation.
"Anything can happen. A hose kinks, a hose can get stuck underneath a door," he said. "They'll take a look at all that and try to figure out why they had the problem."
One firefighter who was holding a water bottle in his left hand arrived at Stroger around 1:15 p.m. He was alert, strapped to a gurney and sitting up, wearing an oxygen mask and no shirt.
A high-ranking fire official met his ambulance in front of the emergency room, looked inside and said, "You OK, boss?"
"Yeah," the firefighter replied. 
Paramedics wheeled him into the emergency room after a moment, and the firefighter and emergency responders appeared calm and even shared a quick laugh with each other.
Fire officials could be seen periodically arriving at the hospital and escorting family members into the emergency room.
Update: 4 firefighters are being treated for injuries after battling a West Side fire https://t.co/DgpAU74rPI pic.twitter.com/3johhRUaZa

— Chicago Tribune (@chicagotribune) July 31, 2016
Derita Conley, who lives in a second-floor unit of the building on West Potomac, said she was getting her three children ready for a family gathering when a neighbor began banging on her door.
"I opened up the back door and I saw black clouds,'' Conley said. "I started screaming and running.''
Conley, her 17-year-old daughter and two grandchildren, girls ages 2 and 10 months, escaped and were examined on the scene by paramedics. "I almost lost the loves of my life,'' Conley said.
Conley was worried after she and the girls inhaled smoke because the 10-month-old has a hole in her heart and the two others are asthmatics.
"I'm just in a state of shock that this happened,'' she said. "I lost everything. Everything was brand-new.''
Conley's eyes were glued to what remained of the second-floor apartment her family had lived in for the past two years. The two-flat building's upper windows were hollowed out, and a pile of debris sat on the front lawn, just feet from where Conley was standing.
The family was preparing for an all-white dress photo early Sunday afternoon. They didn't realize neighbors were knocking on the building's front door, trying to alert residents about the black smoke creeping from what appeared to be the basement. The family said they didn't hear anything over all the chattering in their apartment and the buzz of the television.
It wasn't until Conley stepped outside to take out the trash that she realized there was a fire.
"The black smoke hit me in the face. I ran to the window, I seen my neighbor, my neighbor started saying, 'Get out, get out, get out,'" she said.
Conley said she rescued her dog, but six cats, who ran and hid amid the commotion, died.
The family was preparing to move and was awaiting the completion of a Section 8 inspection of their soon-to-be home, Conley said. But she fears their belongings, which were all packed in boxes, may have been destroyed by water damage.
The landlord and owner of the home, Rodrigo Arichabala, lives on the building's first-floor unit with his family. While Conley's family members said smoke detectors did not go off, Arichabala said smoke detectors are installed and working.
Members of Conley's family also said the building failed recent inspections. Arichabala said the building was in good shape, with the exception of some minor fixes needed in Conley's unit.
A mayday alarm was called when the backdraft occurred as firefighters were searching for victims and putting out the fire on the second floor, Fire Department spokesman Jeff Lyle said.
An EMS Plan I, which automatically sends six ambulances to the scene, was also initiated.
The first calls of the blaze came in at 12:04 p.m., and the first responding firefighters got there at 12:08 p.m., Lyle said. The mayday was called at 12:20 p.m.
"The room lit up around them,'' Lyle said of the injured firefighters, all of whom work at the same firehouse.
Copyright 2016 the Chicago Tribune