Fire chief blown through window at fatal house fire
Chief Benny Colbaugh had discovered the burned body of a deceased man before the backdraft occurred
---
By FireRescue1 Staff
WATAUGA, Tenn. — A fire chief was blown through a window after a backdraft occurred at a house fire Wednesday. 
Watauga Fire Chief Benny Colbaugh discovered the burned body of a deceased man inside the home before the backdraft occurred. Chief Colbaugh suffered minor injuries to his neck and face, reported Johnson City Press.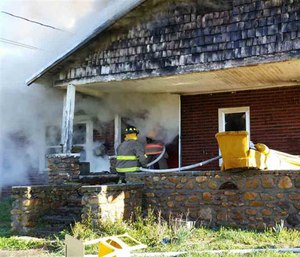 "I am 59, the body doesn't stand the pain quite as well when you get older," he said. "I was knocked out for a little while. They said I was out for about 30 seconds."
Following the incident, Chief Colbaugh remained on scene until the fire was extinguished. 
The fire remains under investigation.