Report: Deaths of Boston firefighters ruled accidental
Lt. Edward Walsh and firefighter Michael Kennedy died as a result of smoke inhalation and thermal injuries
---
BOSTON — The Office of the Chief Medical Examiner released the cause and manner of death for two Boston firefighters who died battling a fire on Beacon Street in March.
Boston Globe reported that the deaths of Lt. Edward Walsh and firefighter Michael Kennedy were accidents, according to Chief Medical Examiner Henry Nields, who said they died as a result of smoke inhalation and thermal injuries.
"We know that both firefighters died heroically," Steve MacDonald, spokesman for the Boston Fire Department, said. "They gave people a chance to escape, and they died doing their job."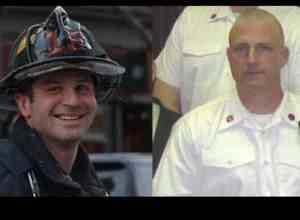 Boston fire investigators determined in April that the fire originated from sparks from welders working on a handrail at a building next door, according to the report. The welders did not have a city permit, which usually requires a fire department official to inspect for potential hazards.
Investigators from the National Institute for Occupational Safety and Health are looking at other factors that contributed to the deaths and whether lessons can be learned to prevent future tragedies, according to the report.
The Fire Department's board of inquiry is also looking at various aspects of what happened during the blaze, such as fire operations, communications and the weather, according to the report.
Both investigations are expected to be completed by the end of the year.