Lawmakers to gov.: Give volunteer firefighters cancer coverage
The legislation would increase benefits for volunteers who might not be covered if they contract job-related cancer
---
By FireRescue1 Staff
ALBANY, N.Y. — New York lawmakers are asking Gov. Andrew Cuomo to approve a bill that would give volunteer firefighters better coverage for job-related cancer.
WSKG News reported that the legislation would increase benefits for volunteers who might not be covered if they contract job-related cancer. The bill passed both the Senate and the Assembly.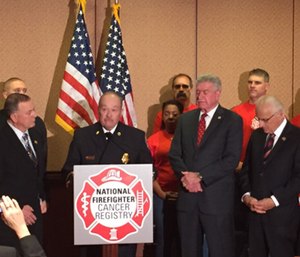 "There's overwhelming support in communities across the state that matches the overwhelming and unanimous support in both houses of the legislature," Senator Dave Valesky said. "So the bill will be scheduled to be delivered to the governor from the legislature. The support is solid, and we're very hopeful and confident that he'll take the correct action."
Longtime volunteer firefighter Brian McQueen was diagnosed with non-Hodgkin's lymphoma and was forced to pay for much of the treatment himself.
"Currently only paid firefighters are afforded additional benefits in the event of a cancer diagnosis. Is that really fair? We run into the same fires that our paid firefighters go into," McQueen said. "As a matter of fact, sometimes there's a volunteer firefighter behind the paid firefighter fighting the same fire. But that volunteer firefighter's not covered."
Advocates are urging Gov. Cuomo to sign the bill as soon as he receives it.