Ohio fire stations turn pink for breast cancer awareness
The fire department has done a number of activities to bring breast cancer research awareness to the community
---
Fairborn Daily Herald
FAIRBORN, Ohio — Fairborn Firefighters have been turning up the heat to raise awareness for breast cancer research. From a rib eating contest to a golf outing and a public safety softball mini-tournament, Fairborn Firefighters in their bright pink shirts have been highly visible in the community. In addition, all four fire stations are also lit up in pink.
When the new stations were built, exterior lighting was encompassed in the project. To tie the pink theme in with the stations for the month of October, Firefighter Scott Six wanted to use pink lighting on the stations. He contacted plant maintenance who recommended Pat Butcher of P & B Electric in Fairborn.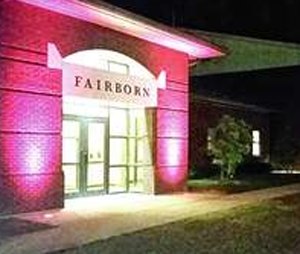 Butcher informed Six that changing the bulbs from clear to pink would be a very arduous task, so it was determined that clear LED bulbs be used and a color filter added that could be easily removed after October. Butcher donated the necessary work and rewiring along with brand new clear LED bulbs at all four stations.
Full story: Fire stations go pink in October