4 Conn. fire companies combine, create unified fire service
The fire companies that make up the newly created Town of Montville Fire Service will remain independent but cooperate on overall messaging and recruitment efforts
---
Sten Spinella
The Day, New London, Conn.
MONTVILLE, Conn. — The town's four independent fire companies are now working together to improve messaging and recruitment efforts.
The chiefs from the Oakdale, Mohegan, Chesterfield and Montville fire companies have agreed to form the Town of Montville Fire Service. The fire companies will remain independent, but on issues of overall messaging and recruitment efforts, they will cooperate.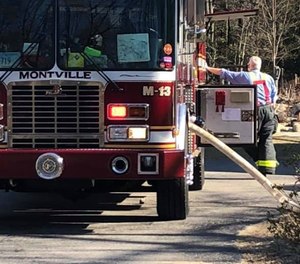 "What this fundamentally does is it allows the four companies to not only recruit as one single unit, it allows us to share information that needs to be shared to the public collectively among the four companies," Chesterfield Fire Co. Public Information Officer Steven Frischling said.
Having the Town of Montville Fire Service keeps would-be recruits from being confused as well, Frischling said. Rather than reaching out to individual companies, people can reach out to the fire service umbrella to volunteer and be placed — most likely — at the company nearest their residence.
Also, Frischling said, fire companies won't have to compete for recruits.
"This allows the four companies to come together in a singular manner and work to advance all four companies," Frischling said. "We're not fighting for recruiting, we're not saying, 'Come here, don't go there.'"
A group of six people chosen from each fire company are collaborating on this effort. One is Dawn-Marie Turner, EMS captain at Montville Fire Company. Turner said the COVID-19 pandemic, during which all four fire companies staged drive by parades for people, was an impetus for the creation of the fire service.
"Since COVID started, we were doing all the parades and stuff for Montville, everything came together for all of us," Turner said. "We're unified, but we're still the four independent companies."
She said she's never seen a group like this in her 20 years of experience at Montville Fire Company, and she hopes it will lead to better volunteer recruitment.
"We've been losing a lot of volunteers. We just got this up and running, but we're starting to get the message out," Turner said. We've already had some people come in who want to sign up to be a volunteer." She went on to say that in the past, companies stayed mostly separate, "but since we've started to work together more, it's been fantastic."
Montville's fire companies created the cooperative fire service without any town directive. Montville Mayor Ron McDaniel said he hadn't heard of it until The Day asked him about it on Friday.
"I have not seen the plan or its details but will support anything that will enhance recruitment and retention and any structural changes that improve our fire service," McDaniel said.
Fire Marshal and Emergency Management Director William Bundy also said it was the first he'd heard of the initiative on Friday. He agreed with the fire companies' objective.
"The town desperately needs to address the shortage of volunteers, which is not only here, but in neighboring towns as well as across the country. Local towns around us like Waterford have already begun addressing these concerns by implementing paid services and consolidating efforts within the volunteer and career ranks," Bundy said. "We are fortunate here in the Town of Montville to have a primary force and department comprising of thirteen professional and career firefighters, who staff these companies on a daily basis and provide this service to our taxpayers."
Bundy said it is the primary responsibility of the volunteer companies to recruit and retain volunteers, and it's the town's responsibility "to ensure fire and emergency services are provided to its citizens and taxpayers."
Bundy added that he thinks all stakeholders should be part of volunteer recruitment efforts.
"I encourage any discussion and plans that will identify and bring clarity to these shortages and staffing issues, and to develop solutions as we all move forward," he said.
The fire companies have now started a Town of Montville Fire Service Facebook page , which has garnered more than 160 likes. But there's another Facebook page with a similar name, this one run by the town's emergency management office, that's called " Montville Fire Services and Emergency Management."
Frischling said the fire companies' recently created page will put out COVID-19 updates, such as numbers and testing sites, FEMA and National Weather Service alerts and other applicable information. Frischling had been doing this from his Chesterfield Fire Co. PIO Facebook page.
"Realistically, that info should not be coming from one company, it should be coming from the collective of the four fire companies," Frischling said.
Residents can reach out to the Town of Montville Fire Service by calling (860) 629-9232 or emailing info@townofmontvillefireservice.org.
___
(c)2020 The Day (New London, Conn.)
McClatchy-Tribune News Service