Yarnell Hotshot families fight to save fire station
Officials said selling the station would generate revenue that would help pay for the city's public safety pension program
---
By FireRescue1 Staff
PRESCOTT, Ariz. — The families of the Granite Mountain Hotshots are calling on the community to preserve the station where they served. 
After the city stated that it is considering selling the station, where the 19 firefighters who were killed in the 2013 Yarnell Hill Fire worked, their families voiced their opposition.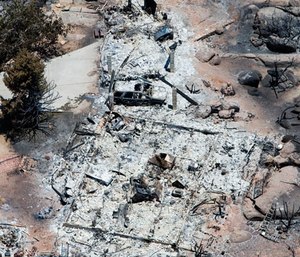 The selling of the station would generate revenue to pay down the city's more than $78 million of unfunded liability with the public safety pension program, reported The Daily Courier. 
City official Don Hersh said although "there is still a small contingent of fire department personnel [at Station 7]," personnel could be moved to another station.
Some members of the community disagreed. 
"You also have a responsibility to preserve the legacy of the community, and the Sixth Street station is an important part of that legacy," Ted Ralston, the city's former wildland fuels crew supervisor, said during a community meeting. 
Deborah Pfingston, the mother of fallen Hotshot Andrew Ashcraft, implored the council to allow the families to find ways to keep the station. Potential ideas included wildland training or firefighting education. 
Council members will revisit the issue in a closed session Feb. 14.