Burned NY firefighter recalls being rescued by colleagues
"I just knew my brothers were there," Eric Whitehead said when recalling being pulled from a burning house after suffering third-degree burns to his hands
---
By Maki Becker
The Buffalo News
BUFFALO, N.Y. — Firefighter Eric Whitehead lay on the floor of the burning attic, blinded by smoke and steam.
He couldn't find his hose line.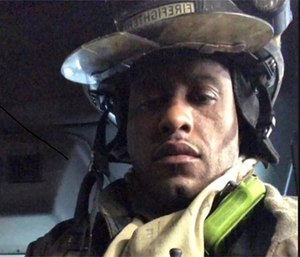 His hands were burned.
But he wasn't afraid.
"I just knew my brothers were there," Whitehead recalled.
A month after being pulled from the burning house on Butler Avenue, Whitehead remains in Erie County Medical Center, where doctors are treating third-degree burns on his hands.
Yet he couldn't be more thankful – to both his fellow firefighters and to those helping him recover. He looks forward to the day he's back at work with his crew on Engine 21.
"They saved my life," Whitehead told The Buffalo News in a phone interview from his room in the burn unit.
On the night of Jan. 10, Whitehead was the acting officer in charge when the call came in at about 8:30 p.m.: a fire at 82 Butler Ave.
When Engine 21 arrived, Whitehead saw smoke pouring out of the second floor. He and his crew grabbed a hose line and headed into the house.
On the second floor, Whitehead didn't see any smoke.
"We could see it coming from the attic," he said.
Attic fires are notoriously difficult, according to Phil Ryan, a retired Buffalo firefighter who wrote about them in a first-person account with The Buffalo News after the Butler Avenue fire.
"All firefighters know the dreaded phrase 'attic fire.' They are a firefighter's nightmare, and for good reason," Ryan wrote.
"In the city a majority of the housing is the typical 2½-story residential. In most of those buildings the attic is an unfinished storage area, which was the case at this location," Ryan wrote.
Egress is what makes attic fires so dangerous.
"One way in and one way out," he wrote. "Sometimes there is a window at the front of an attic, usually the opposite end from you and three stories above ground. So a firefighter's life line is the fire line you dragged in. It's your water source and, more importantly, it's your only way out."
Whitehead doesn't recall everything that happened inside the Butler Avenue attic.
He remembers a lot of smoke and intense heat.
"I was fighting the fire and something hit me," Whitehead said. "When it hit me I lost my helmet and my hose line."
Whitehead became disoriented. He couldn't find his hose. He couldn't see.
That's when his training kicked in.
He tried to control his breathing – taking slow, shallow breaths like he'd been taught at the academy.
"You try to keep a cool head and conserve your air," he said. "It's almost like momentum. You have to slow down and don't panic."
He was able to stay calm because he knew help was on the way.
Nevertheless, Whitehead was so disoriented and exhausted in the attic that he was unable to hit his "man-down" button, Fire Commissioner William Renaldo told reporters the day after the fire.
"He knew he was in trouble," Renaldo said.
And he did exactly what he was supposed to do.
"He got down in the prone position and tried to exercise shallow breathing to extend his air supply, and just stay there until help arrived, which it did it very quickly," Renaldo said.
Renaldo estimated just a couple of minutes passed before fellow firefighters found him.
Another firefighter hit his own mayday button to signal an emergency.
Then the firefighters picked up Whitehead's 5-foot-11 inch frame and carried him down the two-and-a-half flights to safety.
"I remember a little bit," Whitehead said. "I remember the feeling they were there for me. They saved my life, just like I knew they would. I didn't have a doubt. I knew they were coming."
Whitehead didn't start out as a firefighter; for eight years, he worked in a bank. But sitting behind a desk didn't suit him.
So he gave firefighting a try.
He'd always been athletic. He played football at Bennett High School and later at Grambling State University in Louisiana.
"And then after that I kind of always have been into fitness and stayed in shape," Whitehead said.
He runs around the loop in Delaware Park and hits the stair-stepper at the gym. He loves swimming, interval training, calisthenics and weights.
Whitehead, who scored a 94 on the firefighter exam, joined the Buffalo Fire Department in May 2015. He loved the camaraderie and his work motivated him to continue to be in top shape.
"I felt like I finally found my calling in life," he said. "This is what I'm here to do."
He worked at a number of firehouses before putting in a bid with Engine 21 on Jefferson Avenue and Kingsley Street, one of the busiest firehouses in the city.
"I'm kind of lucky to make it to a busy house like that," Whitehead said.
It wasn't until he was outside of the burning house that Whitehead started to feel the pain in his hands.
He would later learn he had suffered third-degree burns – the most serious kind. The damage extended into the tissue of his hands.
He didn't dare look at his hands once outside the house, he said.
"I didn't want to see. I didn't look at them. I knew I was hurt bad," Whitehead said.
He also knew one other thing: He was happy to be out of that burning attic.
An ambulance raced Whitehead to ECMC as Buffalo police stopped traffic to help get him there as fast as possible.
Whitehead has been at the hospital ever since.
He faces a long road to recovery and is undergoing an array of treatments to heal his hands. On Friday, his physical therapy involved doing finger movements.
"They're taking real good care of me," he said of his doctors and nurses.
He's overwhelmed by the support of his fellow firefighters and the Buffalo community. A fundraiser was held for him last weekend at the Blackthorn Restaurant and Pub on Seneca Street.
Whitehead's fiancee visits every day. A couple of times a week, he's allowed to go to a conference room where he can play with his two daughters and son.
Whitehead, 33, is hopeful he'll make a full recovery – and that he'll be back in a firehouse.
"That's what I'm hoping," he said.
In the meantime, Whitehead has a message for all of the people who made sure he got out of that attic and who helped him with his recovery.
"Thank you for saving my life," he said. "Thank you for being there when I needed you. To my fire brothers and the hospital staff, thank you."
Copyright 2019 The Buffalo News
McClatchy-Tribune News Service