'Extremely grateful': Calif. FF burned in Caldor Fire receives skin grafts
West Stanislaus Fire Protection District Firefighter Richard Gerety had been working the Caldor Fire for 10 days when he was seriously injured on Aug. 28
---
By Rachel Engel
DAVIS, Calif. — A firefighter who received second- and third-degree burns to 20% of his body received skin grafts for his hands this week.
West Stanislaus Fire Protection District Firefighter Richard Gerety had been working the Caldor Fire for 10 days when he was seriously injured on Aug. 28, KCRA reported.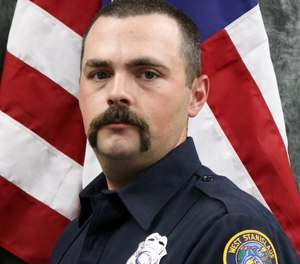 "I did not expect that kind of phone call," Gerety's wife, Jennifer, said. "It was very scary. It's not something you ever want to have to see or hear, but everybody, the chiefs involved, the person that was with him, they all kept me updated. I knew within a very short amount of time what was going on."
Gerety, who works as a mechanic, received skin grafts for his hands this week and began working on his dexterity.
"He had skin grafting done on his hands Wednesday, and that is looking successful," Jennifer told KCRA. "He started physical therapy today, which is hard, but he's doing good with it. It's going to be extensive physical therapy."
A GoFundMe page was created to assist Gerety and his family as he recovers.