Firefighter recalls being hurt in Wash. wildfire
Brett Read, who was severely burned and is now recovering at a hospital, said the "fire stood up and made a huge run" when his crew began to disengage
---
By FireRescue1 Staff
SEATTLE — A firefighter who was severely burned while battling a wildfire recalled his experience while recovering in the hospital.
Q13 Fox reported that Okanogan County Fire District Number 8 firefighter Brett Read was helping battle the Grass Valley Fire when he said things got out hand quickly.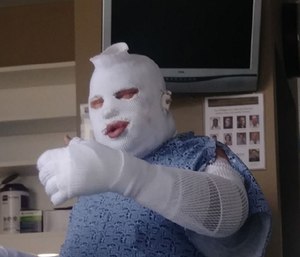 "Fire's unpredictable. We engaged the fire; everything was going. We decided to disengage the fire because it was intensifying, wind shifts. We were backing out of the fire, disengaging, and that's when the fire stood up and made a huge run," he recalled.
Read said he was forced to run through the flames to another truck after the rig he was on became overcome by the blaze.
"The flames, they were licking under my face. I could see nothing but fire and the intense heat," he said.
The firefighter said he was only thinking about one thing while he raced to seek medical help.
"I had to tell my wife," he said. "Family is everything, especially for us."
Read has not undergone any surgeries despite the severity of his burns, but he doesn't know when he will be able to return home. However, he said he has no regrets.
"I'd still be out there today if they'd clear me," he said. "It's a chance that everyone takes when we lace our boots up every day. But if we don't lace our boots up, who's fighting them?"
Gov. Jay Inslee visited Read in the hospital and presented him with a pin, dubbing him Washingtonian of the Day.
"Here's to Brett and to all of the firefighters out there risking their lives to help protect our state," Inslee tweeted.
Click here to donate to Read's GoFundMe.
Today I visited Brett Read and his wife Florie. I found him in good spirits and had the honor of making him Washingtonian of the day. Here's to Brett and to all of the firefighters out there risking their lives to help protect our state. https://t.co/MzP2nmmT2E pic.twitter.com/bpg5rtQkcy

— Governor Jay Inslee (@GovInslee) August 16, 2018