'Fire in Paradise': Documentary captures the first horrific hours of the Camp Fire
A Netflix documentary about the deadly blaze balances themes of loss with courage and fortitude
---
Another season of devastating fires in California is a reminder that it was just one year ago that the state experienced the deadliest wildfire in its history: the Camp Fire, which destroyed the town of Paradise (population 26,561) in Northern California, as well as much land and property in the surrounding area.           
Everyone has heard of this fire, where 85 people were killed and 18,000 buildings were destroyed. The fire ultimately consumed 240 square miles of land. But now, because of the new Netflix documentary "Fire in Paradise," we can all experience a little of what that fire was like for those who were in it.
Looking back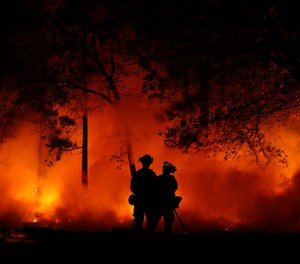 On Nov. 8, 2018, a wildland fire was sparked by power lines in an undeveloped area on the east side of Butte County. Emergency officials at first were not too concerned. The area was remote and had experienced wildland fires in the past that were fairly easily contained.
That was not the case this time around. The first report came in at 6:16 a.m., and within an hour, flames had spread to populated areas and were forcing evacuations. High winds and dry conditions were the leading causes of rapid fire spread.
Those first horrific hours
Although the fire ultimately took three weeks to fully contain, much of the destruction came in the first 24 hours.
"Fire in Paradise" tells the story of those first hours through the voices of a volunteer firefighter, a CAL FIRE captain, a dispatcher, a Paradise police officer, two public school teachers and several residents.
The video of the fire, both from official sources and from personal cell phone recordings, underscores the intensity and insanity of the event. It was apocalyptic.
Two teachers talk about volunteering to get on the bus with their students and being stuck in traffic for six hours during the evacuation as the bus filled up with black smoke. One teacher said at that point she felt "deep hopelessness" and "prayed we would die of smoke inhalation." But then the two teachers and the bus driver "took a breath and got back to work" protecting the children in their care.
Getting back to work is a theme in this documentary – the dispatcher's face etched with pain as she recalls telling a desperate caller, "I have to go. I have to take another call." The police officer remembering how he had to tell people that they could not go back to their home for their dog: "If you go back there, you'll die."
At one point, emergency responders had to order 150 people stuck in traffic to abandon their vehicles and seek refuge in a large concrete parking lot as the fire closed in on them from all sides and propane tanks exploded in the field behind them. People lay on that concrete slab for hours, but they survived.
The aftermath of the fire was grim, as emergency responders searched every building and vehicle, trying to find remains of some of the hundreds of residents reported missing. "You'll be someone's hero today," the incident commander tells them, as they mine the ruins for the smallest clues – bone fragments, teeth.
Remembering Paradise
The fire season in California has been lengthening and intensifying in the past decade, to the point where calling it a "fire season" is really a misnomer. The CAL FIRE captain comments that recent fires are described as "unprecedented," but when they happen year after year, this is hardly an accurate description. He emphasizes that the problem is not fuel but weather, climate patterns of wind and drought that "are most certainly not normal."
The Camp Fire was fast-moving and devastating, and so is this documentary about it. At only 40 minutes in length, there are no wasted moments. It grabs you by the throat in the first minutes and doesn't let go.
The long-term effects of trauma are visible on the faces of those who survived this fire. As one person said, it is a grieving process that will last indefinitely, but life also goes on for those who were displaced, who lost loved ones, who lost everything.
Courage and fortitude and loss are the themes of this film. The dispatcher interviewed expresses fear that "people are going to forget" what happened in Paradise a year ago. This documentary goes a long way toward ensuring that does not happen.