Photo: Jr. firefighter goes bald to honor firefighter brother's memory
Zachary Barfield's brother was killed in a car crash last year; he was an avid supporter of a children's cancer research charity
---
LENOIR COUNTY, N.C. — A 13-year-old junior firefighter honored his firefighter brother, who was killed in a car crash last year, by shaving his head to help raise money for children's cancer research.
WCTI12.com reported that Zachary Barfield looked up to his brother, Taylor, who was a volunteer firefighter and detention officer. Zachary said Taylor inspired him to become a junior firefighter.
Taylor, who was an avid supporter of the St. Baldrick's Foundation, a charity dedicated to raising money for children's cancer research, died in a car crash last September on his way home from work.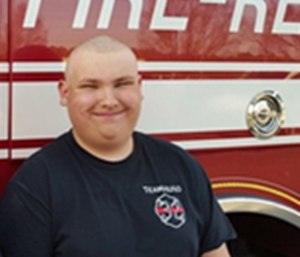 Taylor had planned to shave his head in 2016, so Zachary decided to fill in for him at the event. More than 200 people, including Zachary, got their heads shaved to help raise money Tuesday night.
Zachary helped raise more than $2,300 from sponsors supporting him through donations and selling T-shirts.
"He was always goodhearted and I want to make my brother proud," he said. "I'm doing something for a cancer patient, so as long as I can grow my hair, I'll continue growing it for them."
The fundraising event raised more than $22,000.