Cancer risk at center of NH fire station plan debate
At least one resident at the public forum expressed skepticism that a hot zone for carcinogen decontamination was needed
---
Jake Lahut
The Keene Sentinel, N.H.
SWANZEY CENTER, N.H. — A public hearing Wednesday on Swanzey's proposal for a new $3.95 million central fire station fleshed out the financing and construction sides of the plan, with residents speaking most on the "hot zone" that would be dedicated to first responders' safety.
Voters will decide whether to amend the fire-station article, as well as others on the warrant, at Swanzey's deliberative session on Tuesday, Feb. 4, in the Monadnock Regional Middle/High School auditorium.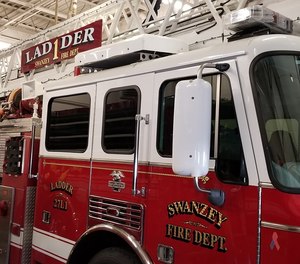 Ballot voting on the entire warrant falls on Tuesday, March 10, and the fire-station article will require a three-fifths majority to pass.
The bulk of the project would be funded through a $3.5 million bond, with $250,000 coming from Swanzey's undesignated fund balance and the rest from a $200,000 general appropriation raised by taxes.
Taxpayers would see a 0.04 percent property tax increase, should the article pass, or around an additional $80 on a tax bill per year for a home valued at $200,000, according to figures presented Wednesday night. The town estimated a 3.75 percent interest rate when calculating what taxpayers would owe over the bond's 20-year term, but it may not end up being that high, according to Swanzey Town Administrator Michael Branley.
The new 12,000-square-foot station would feature a garage with three double-deep bays, a command center, meeting and conference rooms, and new offices to replace the existing ones at the west station. The facility would also have a cordoned-off "hot zone" for first responders to decontaminate their gear after calls and wash it using upgraded equipment.
The purpose of this area is to reduce exposure to carcinogens and other hazardous materials.
This latest proposal in Swanzey represents the third attempt since 2015 to win voter approval for a new station.
The 321 Old Homestead Highway location would replace the smaller station now in the basement of town hall, while the current east and west stations would remain in operation.
Branley gave a thorough visual presentation on the new station at Wednesday's hearing at the middle/high school, with most of the public comment zeroing in on the hot zone.
Since a bill signed by Republican Gov. Chris Sununu in 2018, New Hampshire mandates coverage for treatment of certain types of cancer as an occupational illness for firefighters.
With the state officially operating under a presumption that certain kinds of cancer cases are caused by 10 years or more of work as a firefighter, particularly with exposure to carcinogens related to heat and radiation, Branley said the town's understanding of implementing enhanced safety protocols "has progressed significantly."
'The presumption is enough'
Kicking off Wednesday night's only sustained debate on the new station, Swanzey resident Bruno Koshelleff said he remained "a little bit dubious about the presumption of firefighters suffering from cancer" at elevated rates over their careers.
Koshelleff said that while he's not a medical professional, his 17 years of experience volunteering at a hospital made him skeptical of a "higher incidence of cancer in firefighters."
"But in fact ... cancer is all over the place, you read about it quite often," he said. "Does food provide, [give] you a higher incidence of cancer?
"... I think I would like to know a little bit more, frankly, about how the town suggests, in this case, that cancer is a higher incidence [among firefighters]," he said.
Swanzey Interim Fire Chief Eric Mattson explained the state law further to Koshelleff, who was not completely convinced.
Retired U.S. Navy Chaplain Samir J. Habiby stood up next.
"I'm a bit shocked. We veterans had to fight the [U.S.] Veterans Administration 30 to 40 years to convince them Agent Orange ... got into us and gave us cancer.
"The presumption is enough," said Habiby, who received the Purple Heart and a pair of Bronze Stars for his service in the Vietnam War. "Thousands of Americans have died because there are those who would not accept that presumption, including from this town."
Richard Scaramelli chimed in next, explaining he did not want to be argumentative but simply to point out the bravery of Swanzey's volunteer firefighting force.
"I think it behooves us as a town and as a community to take care of those who volunteer to take care of us," Scaramelli said.
Koshelleff said his own military service informed his perspective.
"I spent three years in Vietnam during the war, and I spent three years in Cambodia during the war," Koshelleff said. "I was exposed to Agent Orange. I was exposed to a lot of other hazards.
"I'm not suggesting that the government necessarily owes me a lifetime protection from all of the hazards I was exposed to," he added.
Before proceeding to a hearing on the rest of this year's warrant, Board of Selectmen Chairman Bill Hutwelker closed out the public comment period on the article with a call for doing better by the town's first responders with the "hot zone."
"It's that much more important ... (to have) the hot zone where people could bring in their uniforms from being on the job, turn them in, have them washed in a facility with appropriate laundry equipment" Hutwelker said. "[With] extractors as opposed to the Maytags that we — or maybe they're Sears, I don't know what brand we have now — but they're clearly not extracting the impurities that these men and women face when they go out."
———
©2020 The Keene Sentinel (Keene, N.H.)
McClatchy-Tribune News Service