IAFC, NVFC release update to Lavender Ribbon Report on occupational cancer risks
The updated draft offers additional research, essays, articles and ideas for successfully implementing the best practices
---
By Janelle Foskett
The International Association of Fire Chiefs' Volunteer and Combination Officers Section (VCOS) and the National Volunteer Fire Council (NVFC) released an update this week to the Lavender Ribbon Report that provides 11 best practices for reducing exposure risks and preventing occupational cancer in firefighters. The update includes additional information, essays, articles, research and ideas for successfully implementing the best practices, the IAFC detailed in a statement.
VCOS and the NVFC released the original Lavender Ribbon Report in 2018, offering actions firefighters can take to protect themselves and their team from occupational cancer risks. The update shares personal stories, examples of how departments are implementing the best practices, and other information to reinforce the actions firefighters need to take to lessen their exposure risks.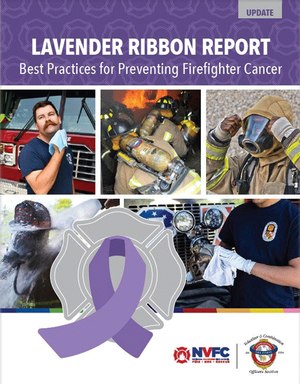 "The risks we face aren't going anywhere, and we can't remain stagnant in addressing this critical health and safety issue," said Chief Brian McQueen, chair of the NVFC's cancer subcommittee and co-author of both the Lavender Ribbon Report and the Lavender Ribbon Report Update. "This new release will equip firefighters with further tools and knowledge so they can successfully implement the best practices, along with motivation for why it is so urgent that we take action now. Don't let this document sit on the shelf – use it so that we can prevent the tragedy of firefighter cancer."
Chief John M. Buckman III, VCOS educational coordinator and FireRescue1 board member, added: "The VCOS hopes that all public safety personnel will read both the original Lavender Ribbon Report and this updated version. Firefighter health and wellness, especially occupational cancer, must be a top priority and is a continuous process that requires strong leadership and commitment to take the right actions. This updated report is designed to reignite the passion for helping firefighters protect themselves from carcinogen exposure. This is a large document and will require significant individual and organizational commitment. Don't let its size stop you from using each piece to improve your organization."
Studies show that firefighters have higher rates of many types of cancer than the general population. "It is critical that both individual firefighters and fire service leaders implement the best practices to reduce exposures to toxic chemicals and carcinogens," the IAFC statement reads. "Use the Lavender Ribbon Report Update to implement practices that will make the department safer and reduce the number of firefighters who have to face the anguish of a cancer diagnosis.
Download the Lavender Ribbon Report Update on the NVFC web site at www.nvfc.org/lrr and the VCOS web site at www.vcos.org/beatffcancer.