Texas fire dept. exploring options for enhanced cancer screenings
The Woodlands Fire Department is seeking options for enhanced cancer screenings for firefighters as cancer becomes more prevalent in the profession
---
By Jeff Forward
Houston Chronicle
THE WOODLANDS, Texas — The Woodlands Fire Department will continue using the same medical firm it has used in recent years for firefighter physicals after getting unanimous approval from The Woodlands Township Board of Directors to renew a three-year deal. However, the department is still seeking options for enhanced cancer screenings for firefighters as cancer becomes more prevalent in the profession.
During the Sept. 26 township board meeting, the board voted 6-0 to approve allowing township President Don Norrell to enter into a new three-year agreement with Life Scan Wellness Center at a cost of $90,000.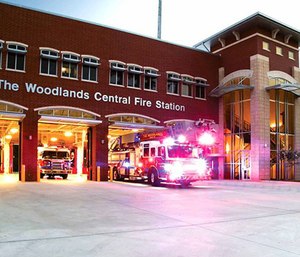 Woodlands Deputy Fire Chief Jerry Bittner told the board that after a request for qualifications was put out, two companies responded with interest in providing the physicals — Life Scan as well as another firm called P, M & R Specialists of Texas. Between the two firms, Bittner said Life Scan scored much higher on the rating scale, hence the recommendation to renew a contract with the company.
The physical exams and tests are extremely thorough and intensive, and will involve laboratory analysis of 15 different types of test results, such as lipid panel, glucose levels, a urinalysis and others. Firefighters will also receive a comprehensive medical exam looking at seven areas including a detailed medical history, a hands-on exam and skin cancer screening among other tests. There is also a fitness analysis consisting of a body fat analysis and strength, endurance and flexibility analysis; and numerous other medical tests.
Bittner told the directors that these physicals do not include a new, more intensive cancer screening exam done via blood analysis which has been sought by fire department leaders not only in The Woodlands, but all over Texas, as department officials are still looking into new cancer screening testing firms. The physicals will be taken by all firefighters, and also dispatchers, whom Bittner said, "suffer a great amount of stress."
"The fire department is gathering more information on that type of test," Bittner said, referring to the enhanced cancer screening.
Department officials concerned about cancer
While some township board members have expressed concerns with firefighter cancer in recent months, The Woodlands Fire Chief Alan Benson said township fire officials went to a cancer symposium to learn more about the issue and have had growing concerns about cancer in their ranks for many years.
"After that (symposium), we really started getting on board with what can we do to better protect our firefighters. Last year was the first year, I believe I'm correct, that cancer deaths in the fire service outpaced line-of-duty deaths in the fire service," Benson said. "It really is a big topic in the country. While you can never limit the exposure, we can certainly do something to prevent the exposure as much as possible."
Some immediate actions the department has taken include buying a second set of fitted hoods for every one of the firefighters in the department, so when one hood gets contaminated with possible carcinogens, they can swap it out with a new, clean hood to lessen the exposure. The department also has strict regulations regarding decontamination after firefighters return from the scene of a blaze or other incident, such as a chemical or hazardous materials incident.
The issue came to the forefront in recent months after township Board Member John McMullan asked pointed questions about firefighter cancer dangers during several meetings over the summer. McMullan said at the time he was concerned about the increasing reports of firefighters getting cancer across the state and nation, and wanted to know what the township and fire department was doing to help prevent firefighters from both being exposed to carcinogens as well as acquiring cancer.
Benson said he has had department officials gathering statistics on cancer within the department in order to better understand the crisis facing firefighters everywhere.
"We've obtained some stats, and there are some things we're doing (now), there are things we were doing prior to McMullan bringing it up," Benson said.
Woodlands Deputy Fire Chief Doug Adams said there is a state law in Texas that specifically deals with firefighter cancer issues, but while it has good intent, the law has deficiencies in the eyes of some fire officials.
"You have a lot of issues, including presumptive laws in Texas that protect firefighters from certain cancers. In many cases the cities never follow through (on following the law). If you get diagnosed with cancer, you have 30 days to decide if you want to get worker's compensation," Adams said. "The problem with that is, then your availability to physicians (is limited), you just can't go to your own doctor (if you are on worker's compensation). They pick it. They've had some really delayed workers comp (claims). It needed reformed…I think they were trying to address the imperfections in the system."
The issue of firefighter access to medical care and cancer testing has been the subject of numerous stories by the Houston Chronicle investigative reporting team in recent months.
Adams said one frustration point for many firefighters is that they feel they are acquiring medical conditions from helping the community and local residents, but then if they do get cancer or another medical condition, they sometimes feel like they are unfairly treated by the system or doctors who are restricted in how they deal with worker's compensation claims.
"If two people got hurt and broke their ankles, if one of them broke an ankle playing basketball on their day off and the other guy broke it fighting a fire, this guy (basketball player) is going to be back much sooner than the guy on worker's comp, and it is purely the system," Adams added. "You told, 'You need to go here now, you need to use this doctor.'"
As far as local firefighters acquiring cancer, Benson said some members of The Woodlands Fire Department have gotten cancer from the job, but due to employee privacy regulations and laws, there is no way to determine exactly what the numbers are nor reveal their identities.
"We have a very comprehensive (physical and cancer testing) program. Part of that is they do ultrasound imaging of all the major organs," Benson said. "One of our firefighters discovered testicular cancer and was able to get that taken care of. We've also had other incidents where (the doctors) have found maybe some abnormal conditions with the heart. That (testing) is worth the world."
Benson said the department is researching the possibility of a using a new technology in blood testing, one that allows cancer to be detected via genetic analysis of the blood. That test is still being explored with no time frame for any action to be taken.
"It is a whole screening of cancer in your body. The technology is still being tested. Then you would go to an oncologist, and with their procedures, they'd narrow it down," he added. "We're researching that. It is expensive. It is $400 to $600 per test."
Types of carcinogens faced
Benson said there are many dangerous elements and things that the 138 front-line firefighters in the township are exposed to while doing their jobs, including particles in the air, burning chemical compounds such as paint or heavy metals, as well as other elements, including smoke.
"(The main danger is) inhalation. The exposure comes from, obviously, the fighting the fire. Of course, we're wearing the self-contained breathing apparatus, but then after the fire is over, you go through a procedure called overhaul practices. Even though the fire is out, you still have particulates in the air," Benson explained. "We encourage and require our people to continue to wear their self contained breathing while they are doing the overhaul. They may be out at the scene for quite a while, if you are still in close proximity, you are still getting that exposure through the wind."
Benson said the firefighter apparatus and uniform, called PPE — or personal protective equipment —is exposed to the particulates and becomes contaminated. That requires that the PPE be thoroughly cleaned immediately after a fire.
"We've purchased some (decontamination) wipes and we have a program where they do a (full decontamination) of their PPE. We did a two-hour class, here's how you use it," Benson said of the cleaning wipes.
Firefighters are also required to take a shower when they return to their station after fighting a blaze as well as to change into a clean uniform.
"We try to do everything we can. we do as much as we can at the scene prior to returning to the station," Benson added. "Then when we get back to the station, we require them to wash their gear. The personal protective equipment is washed thoroughly when back at the station."
The heavy duty washing machines are called extractors, and Benson said they hold two sets of PPE at a time and the machines clean the gear very thoroughly.
The second set of fitted hoods were the only element of the firefighter personal protective equipement that was able to be purchased by the township, Benson and Adams said, in part because of the high cost of a full set of firefighter gear, which is also called "bunker gear." A lieutenant in the department, Chris Polnick, has invented a home-made uniform dryer that enables the department to dry soiled PPE quicker.
"He is a great asset to the department," Benson said of Polnick's invention, which is based at Station No. 4.
Another aspect of cancer that is not often thought of, Benson and Adams said, is the exhaust from fire trucks inside the station bays. Those diesel fumes are a major cause of cancer, and in order to reduce exposure, complex tubing and exhaust suction devices are attached to the ends of the truck's exhaust pipes.
"We have plyo-vent. A lot of the cancer comes from diesel fumes you may breathe in the apparatus room, That's w it hooks up to the exhaust (pipes) so when you start the engine, it gets sucked up and expelled outside the station," Benson said. "We've had that, gosh, for 15 years. We do know, the one root of the exposure with the particulates is in and around your face and neck. That's one of the reasons the board, when Director McMullan brought it up, that they approved buying a second hood."
Benson said the department is also exploring the idea of using saunas to help decontaminate firefighters after battling a blaze. There are fire departments in other parts of the region that are using the saunas already, but Benson said The Woodlands has no plans to implement a sauna at this time.
"The idea is to sweat out the particulates," Benson said of the use of saunas. "The problem is, you need to clean yourself before you go in."
Benson and Adams both said one concern with the sauna is it is also stressful, as the heat of the sauna can exacerbate heat stress from the fire itself.
As for the focus on firefighter safety, Benson and Adams both said they are appreciative of McMullan's interest in the health of all fire department officials.
"Any support from our elected officials is a great thing to have," Benson of McMullan's interest in the issue.
Copyright 2018 Houston Chronicle
McClatchy-Tribune News Service