FDIC 2023 Quick Take: 3-sided success: Physical, mental and emotional strength
Assistant Chief Brian Zaitz shares the keys to finding balance and excellence at home and on the job
---
INDIANAPOLIS — Assistant Chief Brian Zaitz, of the Kirkwood (Missouri) Fire Department delivered a keynote address on seeking success in the emergency services at FDIC 2023.
Success does not correlate to promotion or rank, and comes to those who work hard and find balance, Zaitz explained.
Memorable quotes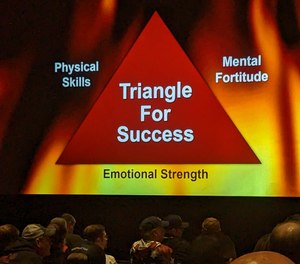 Following are some memorable quotes from Zaitz on succeeding in Fire/EMS.
"It's easy to mentor the motivated. Do the hard work to mentor those in the margins."
"You can't train enough for a job which can kill you."
"Like a virus, a bad attitude can spread quickly."
"The fire service doesn't need more problem finders; it needs more solution makers."
"Love the job, have passion and do what is right."
Three sided success
Zaitz shared the three keys to success, which, in balance, will provide the foundation for a long, impactful career and home life:
Physical skills
Mental fortitude
Emotional strength 
Following are the top takeaways from his address.
1. Physical skills
According to Zaitz, the main components of the physical skills required for emergency services excellence are:
Experience
Education
Training
We love to correlate experience to years on the job, but that's not true, Zaitz said. Instead, experience is how you react to and learn from the opportunities afforded to you.
He shared a call he responded to in which the house had been struck by lightning. Finding no signs of fire, he was ready to move on, when his captain discovered the strike had ignited embers in the clothes dryer lint trap. Zaitz learned two things from that experience, he shared:
Always clean your lint trap.
Take care of the task at hand and always pay attention.
You may not always recognize an experience is a learning opportunity while it's happening, but it is the cornerstone of success, Zaitz said.
2. Mental fortitude
The three components of mental fortitude, Zaitz noted, are:
As his Uncle Bob, a retired firefighter used to say, it's not the job, but your department that will frustrate you. Zaitz encouraged attendees to be problem solvers rather than problem pointer outers, and to keep a love for the service.

"Have focus in all things that you do," he advised. "Stay focused on the mission, use this as the basis for your decisions."

3. Emotional strength
Finally, Zaitz expounded on the importance of our home networks, the keys to our emotional strength:
As important as it is to have each other's backs, Zaitz said, it's important to show emotion, that it's OK to not be OK, and it's OK to ask for help. First responders are the first called for help and the last to ask for help, he said.
"Always love the job, but do not fall short of love for your family," Zaitz urged. "Life is short and your career even shorter."
About the speaker
Zaitz is a 22-year veteran of the fire service and a safety officer for FEMA US&R's Missouri Task Force 1. He is the first vice president of the International Society of Fire Service Instructors, president of the St. Louis County Training Officers Association, a Fire Service Advisory Board member for Detectogether, and a commission member for the State of Missouri Fire Safety and Education commission. He has several degrees, including a master of science degree in human resource development. He is a graduate of the National Fire Academy's Executive Fire Officer program and holds credentials as a Chief Fire Officer and Chief Training Officer.