Things they don't teach you in fire officer school: How to handle performance reviews
Fire service personnel matters are the single-most difficult issue to handle, even by a seasoned company officer
---
By David Hernandez
In preparation for taking the fire officer exam, candidates will focus their attention on reviewing department policies, operational procedures, the incident command system, current strategies and tactics, building construction, and a host of other items that are central to fireground operations. These are – and should be considered – the essential subjects that every company officer understands.
In contrast, topics like the importance of understanding human behavior, researching past disciplinary issues, knowing the discipline process of the department, and seeking mentorship for handling personnel issues are often overshadowed. But these interpersonal aspects of managing a crew are just as critical to your success as a fire officer as those fireground-focused topics.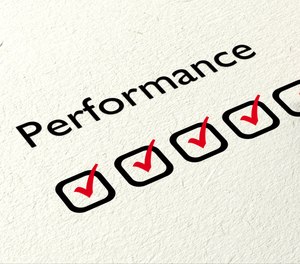 Personnel matters are the single-most difficult issue to handle in the fire service, even by the most seasoned company officer. We, as firefighters, are creatures of habit. We appreciate traditions and dislike change. Our careers are built on significant events that can pass us by in the blink of an eye. The outcomes of these events are determined by the decisions that our members make based on their training, experience and knowledge of the situation. All of these factors are what make performance evaluations so essential – even if it is one of those topics they don't teach you a great deal about in fire officer school.
Tracking progress
Tracking events and performances by those you now supervise is paramount in building a comprehensive personnel evaluation. Track and document events in a manner that best suit your needs. It is like buying a new pair of shoes – only you know what you like and only you can wear them with confidence.
There are often events within an event that get overlooked during an incident. Consider this main event: As my crew and I were leaving the station one hot summer day, we came across an elderly man in a wheelchair who was having trouble negotiating the roadway and sidewalk. Recognizing him as a resident in a nearby senior living community, the senior firefighter asked to get out so he could assist him onto the sidewalk and out of the roadway. So, we blocked traffic, and he proceeded to move the gentleman safely out of traffic.
The event within the event came when the firefighter had already taken a bottle of water out of the cooler in preparation to give to the person (great foresight). And then the real event occurred when the firefighter asked for us to follow him five blocks so that he could push the man home while they consumed the bottled water. The firefighter delivered the resident home and assisted them into the facility safely.
This series of events exemplifies crewmembers acting based on their training, their sensitivity to others, and their role as a public servant. That firefighter could have just assisted the person onto the sidewalk and jumped back in the engine, and we could have driven off and accepting the job as complete.
As the supervisor, I acknowledged the event and the events within the event that made this moment significant for our crew that day. I documented the event in preparation for it to be one of the shining moments to highlight during this member's evaluation period. This firefighter was soon promoted to fire engineer, and I like to think this event had something to do with it.
Scheduling consistent reviews
Making an appointment and scheduling to meet with your crewmembers, both as a team and independently, will validate the performance evaluation period when the formal meeting occurs. The timing of these meetings should be centered on documenting what has occurred most recently. For example, a significant event like the one above is a good opportunity to bring the team together to discuss the event and then also follow up on with a scheduled one-on-one meeting.
Tradition is sacred to all firefighters. As a fire officer, you can develop that internal crew tradition of meeting consistently to bring to light the crewmembers' performance and to help them develop as highly respected firefighters and human beings. Take the opportunity to set time aside and talk with those you supervise on a regularly scheduled basis.
Using writing tools
We have all read our performance evaluation that sums up our last year in a couple of paragraphs and noticed that it has some obvious grammatical errors and misspelled words. Rather than look back as to why, let us move our vision to the future. Writing is a skill that is developed through mentorship, peer reviews, online tools, and the dedicated time for multiple writing/review sessions.
The performance evaluation training that agencies provide usually consists of the human resources director delivering a PowerPoint session on the finer points on what separates "Excellent" from "Good" and "Good" from "Satisfactory." Once again, the things they do not teach you are how to write a comprehensive performance evaluation that provides a snapshot of the past year and captures these performance levels.
Writing a sincere and descriptive performance evaluation is the responsibility of the fire officer. Taking from notes about the employee over the past year, generating an outline of the year, and creating a draft version are the keys to creating a solid foundation from which to start an evaluation. It's best to use an online writing tool that can check for grammatical errors and misspelled words throughout the writing process.
Next, I suggest following up with a peer review from another respected officer utilizing Microsoft Word's "Comments" feature under "Track Changes." It is also likely your peers have firsthand knowledge of the events mentioned in the evaluation and can provide comments that substantiate or even expand on the details in the performance evaluation draft.
Now you can start on the final draft. This next writing session will provide you with better insight as to what you have previously written. Make sure to give yourself adequate time so that you can focus solely on writing the final draft.
After you have completed the final draft version, you must review it for incident numbers, correct spelling of names, event names, and a host of other specific titles that validate the employee's performance. A word of warning: Resist the urge to send this version directly to your superior, just in case there is a grammar or punctuation error you missed. Best practice is to review your final version and then run it through the online writing tool of your preference. Now you can submit it to your boss for review.
Delivering the performance evaluation
The delivery of the employee performance evaluation should not surprise your crewmember. The evaluation packet should be viewed as a summary of all the (significant) events that the member was part of and their actions. As part of the tradition you have already established, build out an appointment with the employee and make sure that the environment is comfortable – and by all means neutral.
What do I mean by "neutral"? This is a place where you have not delivered any discipline, that is free from distractions, and is soundproof. Fire stations are known to have ears, and it is best that you ensure that what is said in the room stays in the room. Confidentiality is critical to the process and should be taken seriously. Allow the employee to read the evaluation alone. Standing over the employee while they review the information will prevent the member from being able to absorb the information.
Your credibility is on the line
When you write an employee performance evaluation that is short, subjective, and filled with grammatical errors and misspelled words, you risk eroding the respect your crewmembers have for you. Remember, you have total control over what is delivered in writing and can avoid these types of mistakes.
Setting time aside to talk with crewmembers about significant events, documenting them accordingly, and then getting them into the final draft is the foundation for peer respect. There is no better time to start than now. Write down those actions that were taken by your crewmembers most recently and work back using your logbook as a resource.
You will see that your writing skills will rise to the next level through the process, you will gain respect from your crewmembers, and you will have future company officers seek your guidance in personnel issues.
Editor's Note: What tips do you have for performance reviews? Share in the comments below.
About the Author
Battalion Chief David A. Hernandez (ret.) began his career as a volunteer firefighter in Southern California. He was hired as a firefighter in Riverside County where he served in a variety of positions, including fire engineer and captain. He concluded his career with the Victorville Fire Department as a battalion chief. He served with the Riverside Ranger Unit/California Department of Forestry, City of Riverside, and the City of Victorville before retiring in December 2019 after serving over 30 years in public safety. Hernandez graduated with a doctorate in public administration from California Baptist University in 2018 with research centered on the collection of data from adolescent drownings.