Video: JJ Watt trains like a firefighter
NFL star JJ Watt visits his hometown fire department in Wisconsin to work out in full bunker gear
---
PEWAUKEE, Wis. — Houston Texans defensive end JJ Watt can land a 61-inch box jump, squat 700 pounds and routinely leads the NFL in tackles, but can he make it through firefighter training in the heat?
As part of Gatorade's "Beat the Heat" educational campaign, Watt visited his hometown fire department in Pewaukee, Wis. — where his father John worked — to complete a firefighter workout and training session in a full set of bunker gear.
Watt can be seen performing a dummy drag, using fire hoses as battle ropes and climbing flights of stairs carrying a length of hose, all in 86-degree weather.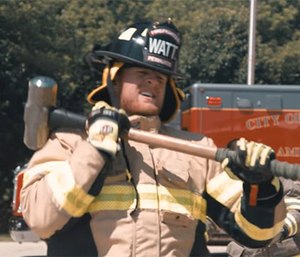 The video was released as part of a sponsored campaign to raise awareness among young athletes, parents and coaches on the dangers of heat-related illnesses during the summer months. Gatorade has worked with NFL and NBA players for the past 12 years in similar promotions, but this is the first "Beat the Heat" to feature EMS personnel.
So how'd the 6-foot-5, 289 lb. super athlete perform? You can check out the video below.