2 Colo. FFs lose their homes while battling Marshall Fire
The Boulder Emergency Squad, a technical search and rescue team, has created a fundraiser to support its volunteers
---
By Leila Merrill
BOULDER, Colo. — Two volunteer firefighters with the Boulder Emergency Squad, a technical search and rescue team, lost their homes to the Marshall Fire, KDVR reported.
Scott MacLaughlin had been at a movie with his son but went home to put on his gear.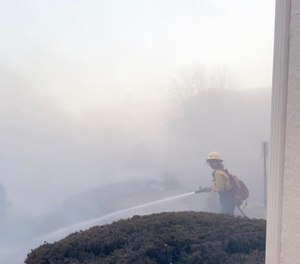 "When I left my house, the house across the street was already on fire," he said.
He joined fire crews in fighting the fire.
MacLaughlin returned home later to find that "pretty much every house was just ash. I mean, there wasn't anything taller than a mailbox," he said.
Firefighter Luke Hayas, an emergency manager for the Boulder County Health Department, also lost his home in the blaze. 
Hayas was working in the emergency operations center that night and said he knew his home was in danger.
"It became clear that my house was threatened," Hayas said. "You say 'Yeah, OK, what's happening is happening,' but there are other people that need my help more now."
Both have hardly any possessions left, but the squad set up a fundraiser for them.
A Facebook post from the squad reads, "We are devastated for the members of our community that lost homes, pets, belongings or whose loved ones are still missing. Two of our own volunteers are amongst those whose homes were destroyed. We've started a GoFundMe to support them in rebuilding from this tragedy. Please consider donating if you can!"