Mom: Please honor kids killed in Baltimore house fire
The fire killed six of Katie Malone's nine children; the fire's cause is under investigation
---
Associated Press
BALTIMORE — A woman injured in a fire that killed six of her nine children is thanking people for their support and asking them to honor her children.
Fire department spokeswoman Blair Adams said Wednesday that Katie Malone, who was critically injured, is now in good condition. The fire's cause is under investigation.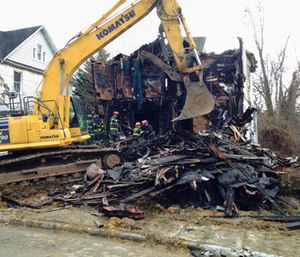 In a Facebook post, Malone suggests honoring 11-year-old Bridgette by making art, 10-year-old Amelia by speaking out against injustice and 3-year-old twins Amanda and Zoe by solving a problem. She says people can remember 2-year-old Billy by being helpful and nearly 9-month-old Daniel by smiling and laughing.
Malone says don't forget her surviving 8-year-old daughter Erin, "a spunky super brave little soul" who got her mother and siblings Jack and Jane, aged 4 and 5, out of the house.