Probationary firefighter pulls fire captain to safety after roof collapse
The captain was guiding the firefighter on how to cut a ventilation hole into the roof when it gave way
---
By FireRescue1 Staff
MENLO PARK, Calif. — A probationary firefighter saved a fire captain after he fell through the collapsed roof of a burning home.
KTVU reported that the fire captain was guiding probationary firefighter Carlos Carpenter through cutting a ventilation hole in the roof of a house.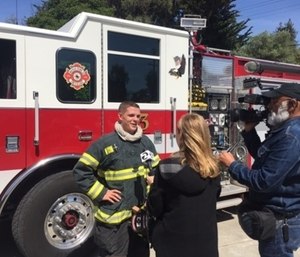 The captain was checking the integrity of the roof with a pole when he felt the area "get spongy." He told Carpenter to get off the roof before it gave way. The captain fell into the burning area up to his armpits, and was pinned into place.
Carpenter quickly pulled the captain by the shoulder straps of his air pack and pulled him out of the hole. Although the captain suffered burns to both hands, the two cut another ventilation hole to complete the job.
After they got off the roof, the captain was transported to the hospital. He will be on leave until he regains use of his hands.