7 ways firefighters can lead from behind
There are right ways and wrong ways for firefighters to pitch their great ideas to officers
---
In the operational command structure of the fire service, the ability for firefighters to contribute good ideas is difficult if not wholly impossible.
Accused of jumping over the chain of authority, displaying bad behavior or simply being a poor follower, good firefighters are acutely aware of the lack of opportunity for input. That's especially true during heated tasks and extended tactics.
But all is not lost. Here are seven ways to get your ideas into the right hands for better decision-making.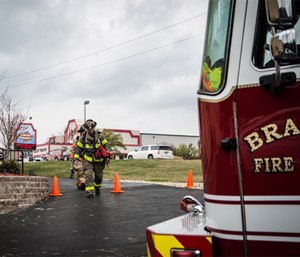 1. Know your command structure
Knowing who is directly above you makes the first step easier. While you may have a good idea, testing it with your captain or crew leader is more appropriate than radioing the command center with a better idea on ladder placement or a good plan for supplying a C side exposure line.
Ahead of any situation, study your district, department or emergency management criteria for an incident command structure. This will give you the ability to see the situation unfolding as it happens.
Whether based on ICS 100 or NIMS 700, there is a command structure you must follow during an alarm.
Firefighters need to understand the various communication channels used during calls and the terminology of the divisional work that is being done. Listening to other crews on the radio will give you a clear blueprint as to how a scene is managed and provides insight into when it is being advanced effectively.
Out of this real-time understanding come ideas that are current. Firefighters with solid ideas must realize, however, that tactics progress safely through recognized strategic authority regardless of what or who advances them.
Firefighters must understand the command structure within which good ideas will be placed. Any input outside this structure is not only unacceptable, but unsafe.
2. Pay your dues, become a trusted teammate
Humility and patience are the perfect components for career building and for setting the foundation for progress. As your skills evolve, your suggestions, ideas, recommendations and proposals gain traction.
Your satisfaction and confidence gives strength and enthusiasm to others. It is here and now that good ideas are accepted and deemed worthy of advancement by the entire team.
3. Wait for the right time and place
Now you have the responsibility of presenting ideas correctly, especially those that could directly affect the fireground.
Talking in private, during a par count or while recovering in rehab are times and locations appropriate for discussion with a superior. When crews are switching out SCBA bottles is another common occasion for the exchange of ideas.
The challenge of such opportunities is making sure these ideas get communicated and implemented correctly. More times than not they will be appropriately advanced up the chain of command by your officer or crew leader.
A solid officer will allow dialogue at some point, making the job of presenting a good idea easier. The challenge is having enough situational awareness to take advantage of these windows of opportunity or having the experience to know when to keep silent.
4. Give complete information
Boots on the ground are a critical source of information vital to command's understanding of strategic progress. Clear size-ups during any evolution are keys to this process.
Knowing the conditions, task status and expected outcomes of work being done gives firefighters another narrow opening for input.
5. Support command by going the extra mile
Just as you can lead a horse to water with no expectation of drinking, you can set the stage for improving any evolution.
As an example, without changing any strategy or tactic throughout the chain of command, asking for additional equipment is effective and appropriate for a firefighter. More than likely it will lead to further action.
Here is a sliver of opportunity to advance a tactic by improving a task. An additional pike pole for an interior crew will double the speed of opening a wall or clearing ceiling panels.
This can become a critical factor in overhaul if not during actual knockdown. An attentive command center will eventually ask for another size-up if not an outright explanation.
6. Allow the right questions to be asked
Because you cannot give an order as a firefighter, sometimes a good idea is couched in information and its subsequent question. Giving command the location and an accurate size-up of a situation can achieve successful resolution by implying the obvious question.
Imagine you are on the third floor of a newly evacuated hotel. You come across an electrical panel not associated with the main breaker panel in the basement. A stable incident could mean lights on and hands off, while a newly discovered fire in electrical elements shorting out all over the building might indicate the opposite task.
Getting permission to turn off the breakers in this third-floor box could be critical to the tactics deterring the fire's advance. All because a firefighter identified a breaker box and provided the opportunity for the right question to be asked.
7. Give credit to the chain, recognize every link
All good ideas stem from team interaction. And while their origin may be uniquely original, it takes a crew to make them happen.
As one firefighter put it, "Our job is the execution of the evolution and that takes everyone working together. We all succeed or fail as one. That's what makes it worth the effort."
When an idea works, make sure to credit the team as a whole and its members individually.
Good ideas are always worth the effort. It is imperative firefighters know exactly when, how and where to insert them into the action plan.
Understanding the command processes, gaining the respect of your peers and seizing appropriate opportunities for input will go a long way in making tasks safer, accomplishing tactics and advancing the overall strategy of any situation – on or off the fireground.