NIOSH: Poor command, planning contributed to firefighter's death
In this incident, command was never established nor was any type of incident action plan developed and communicated to personnel
---
The National Institute of Occupational Safety and Health issued a line-of-duty death report that examined why a firefighter was killed by a collapsing cell phone tower.
On Feb. 1, 2014, firefighter Michael Garrett, a 15-year veteran with the Nutter Fort Fire Department, was rescuing an injured construction worker who had been hurt during the collapse of a separate cell phone tower. He and three other firefighters were dragging the injured worker out of the danger zone of the first collapsed tower when a second tower collapsed and struck him as he attempted to run away.
Firefighter Garrett was transported to the hospital, where he was later pronounced dead. Two maintenance workers were killed and two others were injured during the collapse.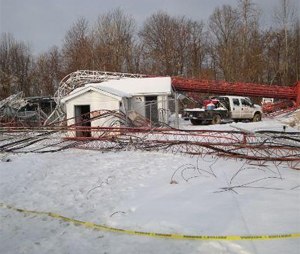 An autopsy concluded that firefighter Garrett died as a result of blunt trauma.
NIOSH investigators identified the following items as key contributing factors in this incident that led to fatalities:
Sequential collapses of two cell phone towers.
Ineffective incident command.
Lack of situational awareness.
Lack of training for the specific type of incident response.
Lack of an incident safety officer.
Investigators also made six recommendations for the department to carry out and enforce.
1. Develop, implement and enforce an occupational safety and health program in accordance with NFPA 1500.
This can foster and improve the overall safety climate of a fire department, as well as improve specific safety and health areas, such as respiratory protection, risk management, training and competency in fireground operations, tactics and equipment and apparatus use.
2. Ensure that an incident commander conducts an initial size-up and risk assessment of the incident scene before beginning operations, establishes a command post, maintains the role of director and does not become involved in operations.
This information lays the foundation for the entire operation. A delay in establishing an effective command post may result in confusion in assignments of personnel and apparatus coordination, which may contribute to unsafe operations.
3. Ensure firefighters are trained in situational awareness, personal safety and accountability.
Firefighters can maintain their situational awareness by looking up, down and around themselves as well as listening for new or unusual sounds and felling vibrations or movement. Firefighters and officers should communicate any changes to other members as well as to the incident commander.
4. Develop pre-incident plans for technical rescue incidents and conduct a risk-benefit analysis for the deployment.
Planned responses should be based upon a critical task analysis of the potential incident to help ensure that an appropriate response is initiated. Pre-incident plans should be developed based upon the incident specific hazards that can be anticipated.
5. Ensure a separate incident safety officer, independent from the incident commander, is appointed at technical rescue incidents.
While the incident commander is in overall command at the scene, certain functions must be delegated to ensure adequate scene management is accomplished. The incident commander should divide the incident into tactical-level management units and assign an incident safety offer to assess the incident scene for hazards.
6. Fire departments, especially volunteer, should limit their special operations functions to those that are properly trained and equipped for.
The purpose of this standard is to specify the minimum criteria addressing the effectiveness and efficiency of the volunteer and combination public fire suppression operations, emergency medical service and special operations delivery in protecting the residents of the jurisdiction.