Thousands attend funeral for fallen Iranian firefighters
While some blame the fire on the number of garment shops, others accused the government of failing to equip firefighters with proper resources
---
By FireRescue1 Staff
TEHRAN, Iran — Thousands gathered Monday to mourn and pay their respects to the 16 firefighters who died after a burning high-rise collapsed earlier this month. 
Funeral services were held inside a Tehran mosque, where the firefighters were dubbed martyrs, reported the Los Angeles Times. Iran's supreme leader, Ayatollah Ali Khamenei, called the firefighters heroes during the service.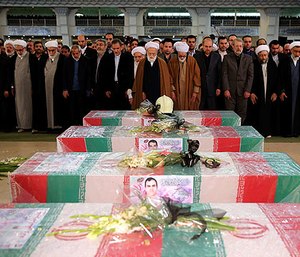 Officials said the Jan. 19 fire was caused by an electrical short-circuit spark. Although initial reports said around 50 firefighters had been killed, the final count was 16. Four civilians were also killed in the collapse. 
"I feel obliged to come here," Alireza Mosavian said. "They sacrificed their lives for the people."
While some blame the fire on the number of garment shops in the high-rise building, others accused the government of failing to equip firefighters with proper resources and gear.