Preparing the public for active shooter incidents in the workplace
All organizations should develop an emergency action plan and train to respond to active shooter scenarios
---
By Keith Collins, alumni, Fire Science Management at American Military University
Active shooter incidents are becoming an increasingly frequent reality. Recent incidents include  school shootings like in Parkland, Fla., public shootings as seen during an outdoor concert in Las Vegas, and workplace shootings like at YouTube headquarters in San Bruno, Ca.
Those who work in emergency services, including EMTs, firefighters and law enforcement, know all too well the ever-changing landscape of terrorist threats and are constantly preparing to respond at any time to a wide scope of emergencies.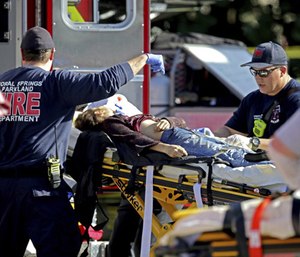 Changing response protocols for active shooter events
Many fire and EMS agencies have recently modified training protocols and equipment to respond to active shooter incidents. For example, many agencies now issue ballistic vests and helmets to protect firefighters and EMTs from gun fire.
Agencies have also updated their response protocols. Former protocols for many agencies required firefighters and EMTs to wait for police to clear a scene for safety. Presently many agencies have now adopted Rescue Task Force (RTF) protocols. RTF allows fire and/or EMS personnel to enter the "warm zone" of an active incident. The warm zone is an area not directly in danger or in the line of fire of an assailant, but located close to the threat and thus a greater risk for responding personnel. Because of that higher risk, fire and/or EMS would enter this area under the protection of law enforcement.
Allowing fire and EMS into scenes earlier means they can provide quicker critical medical care and begin triage for vitally wounded patients. While adapting response protocol and equipment will hopefully save more lives during an active shooter incident, it's also important that these agencies help the public better prepare to act during such emergencies.
Teaching the public how to respond
Emergencies, and the appropriate action in response to emergencies, vary widely. For example, a person involved in a building fire should likely evacuate, whereas someone facing an active shooter may need to shelter in place or evacuate, depending on the situation. The public is generally prepared for fire evacuations and – depending on the area of the country – perhaps to take action during a tornado, earthquake, or hurricane.
The problem is most facilities and workplaces only prepare people to deal with a limited number of emergencies. For example, many people don't know what to do in a hazardous materials spills or an active shooter incident. The public must be taught how to better evaluate emergencies. Awareness and education on critical incidents are key for a positive public response.
Recommendations for active shooter preparation
All organizations should develop an Emergency Action Plan (EAP). As part of this plan, I recommend organizations train employees to better understand the layout of the building. Especially for those in a building with a large floor plan, it's important for people to know where they are located in the building so they can respond as necessary. Training should start by visually dividing the facility into halves, thirds, or quarters, as seen in the drawing below.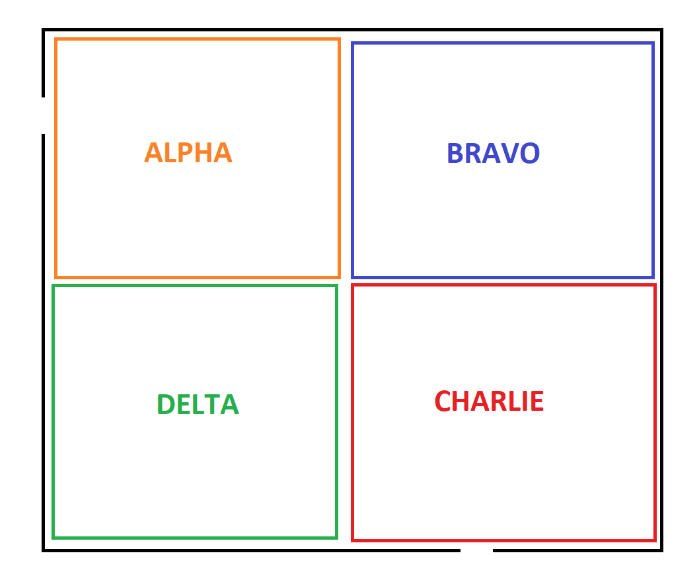 Defining and naming the areas of a building, including office spaces, stairwells and exits, can help people quickly know where they are located and also help them understand instructions about what action they should take during an emergency. For example, during an act of violence incident, it may be best for people in certain zones to remain sheltered in place, while people in other areas may be instructed to evacuate by going down certain stairwells or out certain doors.
In order for supervisors to provide directives during an emergency, the reality is that smart systems need to be installed. Smart systems may include buildings with features such as intercom systems, electronic (battery back-up) emergency indicator boards or directional boards, or intelligent integration supervisory systems (IISS), which can help guide occupants to a safe route for evacuation.
Once these systems are installed, facility managers or building owners should coordinate with local first responders from fire, EMS or emergency management agencies. Organizations should participate in regular drills and exercises so everyone understands their responsibility during an incident. Employees should be taught how to evacuate certain sections of the building and how to properly shelter in place, including how to be better prepared for those less predictable variables like a hazardous materials spill, or an active shooter.
In addition to this preparedness, there are an increasing number of resources available to help organizations prepare for any emergency including:
Organizations need to prioritize implementing a diverse emergency action plan, conduct ongoing and regular training with employees, and coordinate with local response agencies to improve the safety of a workplace.
About the author
Keith Collins graduated in 2014 with a bachelor's of science in Fire Science Management from American Military University. In 2017, he earned a Master's Degree in Public Health from Grand Canyon University. Keith has more than 14 years in the fire service, including military service, and is currently working as a firefighter in Fort Huachuca, Ariz. Follow Keith on Twitter @keithgcollins or get in contact by sending an email to IPSauthor@apus.edu. For more articles featuring insight from industry experts, subscribe to In Public Safety's bi-monthly newsletter.