Calif. community gives back to first responders battling wildfire
Residents of Alta Sierra donated money to help provide free meals to the first responders working the French Fire near Lake Isabella
---
Ishani Desai
The Bakersfield Californian
ALTA SIERRA, Calif. — The French Fire, a conflagration west of Lake Isabella, has displaced thousands and planted uncertainty in the minds of residents.
People in the Alta Sierra community, and others, decided to shower appreciation on the first responders by paying for their meals, said Shannon Balas, an Alta Sierra resident. She felt "helpless" because she couldn't physically help the impacted residents and decided to collect funds to pay for firefighters' meals.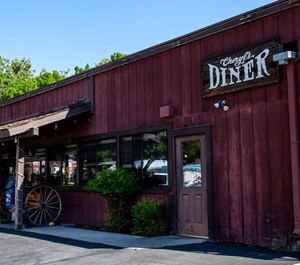 She called Cheryl's Diner, a Kernville restaurant, and together they fed first responders for free through donations from the community starting Tuesday. She wanted to provide meals for all first responders — the Kern County Sheriff's Office, California Highway Patrol and firefighter personnel aiding the battle.
"We know it's backbreaking work," Balas said. "We appreciate everything that they've done for trying to save our home."
Donations totaled almost $5,000, Balas said. She then reined in another business, wanting to provide more "variety" for the first responders.
Bradley Alexander, the owner of Kernville's Pizza Barn, received a call and jumped on an opportunity to give back.
"We are very community-minded," Alexander said. "We're a small community — if you can help out ... you do it."
Alexander said this method allows the community to shower the agencies with support in two ways: providing delicious food and offering it for free. He said about 45 firefighters came into his restaurant Wednesday, the first day Alexander's business began offering this service. He hopes to match the donations.
Sandi Johnstone, a waitress for Cheryl's Diner for 36 years, said the fire brings out a giving spirit in uncertain times. When the diner got the call, there was no hesitation or question to provide meals for free. More than 30 first responders received a free meal, she said.
"You feel like your hands are tied," Johnstone added. "People responded by doing this — it just took off."
The restaurant offers a warm welcome and home-cooked meal for tired first responders battling harsh circumstances, Johnstone said.
"They get to ... be served a hot meal with friendly people around that are glad to see them and thanking them," Johnstone said.
Johnstone also commended the community that scraped together funds for this initiative. Individuals, all facing their own separate hardships, decided to bestow appreciation upon others, she added.
"It's nice that (when) somebody has been through, probably the worst thing of their life, would say, 'I'm going to stop and think about other people and their needs,'" Johnstone said. "It's an amazing community."
___
(c)2021 The Bakersfield Californian (Bakersfield, Calif.)
McClatchy-Tribune News Service