'Just doing what we're supposed to do': Fire department helps refugees
How one N.M. fire department handled its sudden involvement in the southern border immigration crisis
---
Mother's Day 2019 started out like any other Sunday in Deming, New Mexico – a sunny, cool late-spring morning in the desert. Then someone noticed something unusual.
A group of people were milling around in the vicinity of the downtown McDonald's. They didn't look like locals. A good Samaritan directed the strangers to St. Ann's Catholic Church. Calls were made and the city manager went to investigate.
What he found was a rapidly growing group of people who had recently come across the southern border as refugees to the United States. Claiming asylum, they had been held in detention at the border until their status could be verified, and then, according to protocol, they were released to reside with family or sponsors in the United States until their immigration hearings were held.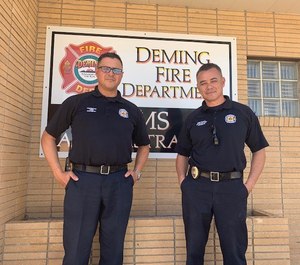 But instead of facilitating the travel for these people directly from the detention facilities where they had been temporarily held, they were transported to the Deming McDonald's, which also serves as the town bus station, and left there to fend for themselves.
That first day, 250 refugees were left in Deming, most with only their documents and the clothes on their backs. Whatever possessions they had with them when they crossed the border had been lost or confiscated while in detention. Some still had cell phones, but "they even took away their cell phone chargers," said Battalion Chief Edgar Davalos of the Deming Fire Department.
Fire department takes command
Deming is a small city of 14,000 people located 60 miles west of Las Cruces and around 30 miles north of the Mexican border. The fire department has only one station and 23 full-time members. Battalion Chief Davalos and Chief Raul Mercado not only manage the department, but also routinely run calls in the 2,600-square-mile response area. The department provides EMS services for the entire county.
When it became apparent that hundreds of desperate people were arriving in town, it was natural for the fire department to get involved right away. Initially they were called upon by the city manager to do health screenings at the makeshift shelter set up at the fairgrounds, with Chief Mercado and Battalion Chief Davalos taking the lead. One volunteer nurse was attempting to screen every individual "and we just followed his lead," said Chief Mercado. "After some time, we streamlined the process, as we couldn't keep up. It became more of a triage situation."
The fire department ultimately became incident command for an operation that at its peak was sheltering and caring for 700 people at any given time. "At that time, we didn't have a lot of volunteers to help, so the fire department was not only doing medical, but we were doing the cleaning, the feeding, the intake, running showers, handing out clothes – we were doing 18-hour days."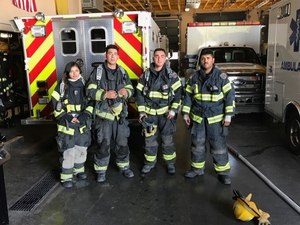 At the peak of the crisis, the fire department moved its base of operations to the shelters, and crews worked onsite when not responding to emergency calls elsewhere.
Not everyone in the department was on board with this decision and commitment. "Some didn't want to be out there," Chief Mercado said. "But at the end of the day, we don't ever ask anybody what their legal status is. We provide service to anyone; it doesn't matter who they are. We really hammer that home, every day."
Battalion Chief Davalos added, "We also made it clear that these people were here on legal status. Not that it made a difference, but that was the truth of their situation."
People arrived in Deming with nothing, just their documents. "They didn't have shoelaces, belts, no backpacks or change of clothes," Davalos said. "The first few days getting toothbrushes, toothpaste and Chapstick seemed like the toughest thing in the world to do. And lice shampoo."

Both chiefs commented on challenges of not only procuring supplies but distributing items to those in need. Eventually town officials got help from other local and state agencies, particularly the Department of Health and Workforce Solutions (part of the Department of Labor). The Catholic Diocese provided record-keeping software called Project Oak Tree that helped tremendously in managing logistics. And numerous volunteers arrived to help, most coming as individuals and paying all their own expenses to be there.
A team effort to help new community members
Altogether, the City of Deming assisted over 10,000 refugees over a three-month period. During this time, the fire department was never contacted by any federal immigration agency about the situation. The department managed this challenge by instituting incident command early and meeting daily to update and adjust to current needs. Chief Davalos made a point of saying that good training in the system among all members was the key to things running smoothly. Chief Mercado emphasized that the success of the effort depended on teamwork among all agencies and individuals who were involved.
The influx of refugees in Deming has greatly diminished for now, but the department is not resting easy and will keep the current shelter operational into the foreseeable future.
"We don't know from one day to the next what might happen," Chief Mercado said.
"There's almost no communication," commented Chief Davalos, referring to federal immigration agencies. "It's almost like the rules change on a regular basis."
The challenges of the summer have been tremendous in Deming. "This is a small town," Chief Mercado said. "You drop off a thousand people in a bigger city, they just kind of blend in. You drop off a thousand people in a town of 14,000, people notice."
But even with the difficulties, Chief Mercado was clear: "It's one of the coolest things I have ever done, personally. I've met some amazing people. And ultimately, we just did what we're supposed to do."