Responders rebuild pump house for man they rescued
The crew, who rescued Ernest Silva, 92, when he fell into his well after the pump house floor gave way, returned to rebuild it for him
---
By FireRescue1 Staff
FREMONT, Calif. — A crew of first responders returned to the site of a well rescue to rebuild the pump house for the man they saved.
KTVU reported that a Fremont Fire Department crew recently saved Ernest Silva, 92, from his well after the floor of the century-old pump house gave way and he fell 26 feet.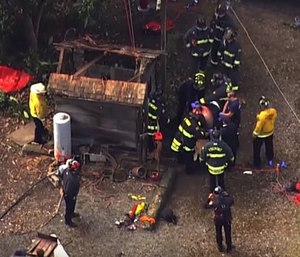 The crew had to remove the roof of the pump house to save Silva, so they came back on their time off to rebuild it.
"After everything was said and done and we got him out, we all kind of knew that something was going to have to be done to replace the well house we destroyed," Captain Michael Laughlin said.
"We're public servants off duty, not just on duty," firefighter-paramedic Mark Hogan said. "I mean the opportunity to come and help – that's the best part of the job."
The responders rebuilt the structure from scratch and recruited their union to pitch in and help.
"They contacted the board, 'Hey would we be willing to donate some money, maybe pay for the supplies, maybe find some people who would be willing to donate time,'" Local 1689 board member Greg Biddle said.
Silva, who said he is feeling better after the rescue, helped with the design of the new pump house.
"The guy, quite frankly, he's a stud," Hogan said. "I was here two days after he fell in and he was out hauling weeds and raking. You would have never known."
The responders signed their names on the finished product and hopes that it lasts 100 years.