2nd vaccine doses postponed for 3K+ Delaware first responders
Fire officials expressed concerns that firefighters and EMS providers will need to restart their vaccine process due to a shortage of doses
---
By Laura French
NEW CASTLE, Del. — At least 3,000 firefighters and EMS providers in Delaware have had their second shots of the COVID-19 vaccine postponed due to a limited supply of doses, state officials say. 
The state Office of Emergency Medical Services said in a recent email to the Delaware Fire Prevention Commission, "OEMS cannot schedule the 2nd Dose PODs [points of dispensing] until the warehouse vaccine supply allows them to do so. OEMS has paused all previously scheduled second vaccine dose dates until further notice," according to WDEL.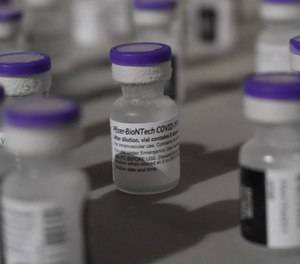 Delaware Gov. John Carney said in a statement Monday that the state is focusing on administering first doses to those in Phase 1B, including adults 65 or older.
The Delaware Fire Prevention Commission said between 3,000 and 3,500 first responders will be affected by the delay in second doses for Phase 1A recipients, according to WPVI. 
Delaware Volunteer Firefighters Association President Jay Jones told WDEL that first responders have expressed concerns about their level of protection with only one dose, and whether they will be able to get their second shot in time. 
Officials at the Christiana Fire Company, where 27 out of 80 members have contracted the virus, told CBS Philly that firefighters were scheduled to get their second doses on Tuesday before they were informed of the delay, and haven't been given a timeframe for when they can reschedule. The issue has raised concerns that some firefighters and EMS providers will need to repeat the vaccine process. 
The CDC recommends receiving a second dose of the Pfizer-BioNTech vaccine 21 days after the first dose; for the Moderna vaccine, it recommends a 28-day interval between the two doses. The CDC states that second doses can be administered up to 42 days after the first dose "if it is not feasible to adhere to the recommended interval."