Are pandemics disasters? For first responders, yes.
COVID-19 prompts questions about how to define disasters, issue public notices
---
A disaster can be defined as "a sudden calamitous event bringing great damage, loss or destruction." But that's just Merriam-Webster's version.
According to the Stafford Act, which has guided federal emergency responses since 1988, there are two types of declarations determined by the president, often at the behest of governors to receive federal funding.
Emergency Declarations are issued whenever a president believes federal funds are needed to assist state and local agencies, limited under law to $5 million or else report to Congress.
Major Disaster Declarations are made for any natural catastrophe, unlocking a range of supports.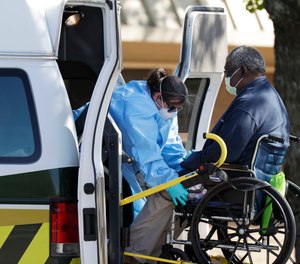 It is by relying on Section 502 of the law that President Trump and the administration can issue guidance and use FEMA to help coordinate the distribution of goods, as of March 31 to include dispatching 250 ambulances and crew. This is separate from the National Emergency Declaration made on March 13 by Proclamation 9994 or the invocation of the Defense Production Act two weeks later to compel manufacture.
Interestingly, the word "pandemic" is not found in the Stafford Act. But that doesn't mean it's not a disaster, at least for first responders.
Federal-level pandemic involvement
The first recorded instance of federal engagement in an emergency occurred when Congress passed a bill in 1803 to assist Portsmouth, New Hampshire, after a fire. The trend picked up dramatically during the Roosevelt administration with the creation of loan and public works programs in the 1930s. In the late-20th century, the federal government's role went unchallenged, as state resources were increasingly overwhelmed by the scale of natural disaster.
The Pandemic and All-Hazards Preparedness and Advancing Innovation Act (PAHPA), signed into law in June 2019, reauthorized numerous pandemic-focused programs through 2023. Congress' first version of the law emerged from lessons learned after the 9/11 terrorist attacks. Similarly, expect Congress to learn from the unprecedented nature of the coronavirus outbreak, hold hearings and draft additional legislation.
Rep. Susan Brooks (R-Ind.) said when the latest PAHPA passed, "the threats we are facing are not hypothetical," referring then to Ebola and Zika viruses. Coronavirus was simply not on the radar. Rep. Buddy Carter (R-Ga.), a pharmacist, noted at the time that it addressed "antimicrobial resistance so we can help protect future generations from the threat of widespread pandemic." Still, no mention of coronavirus.
With COVID-19, the time had come. A Coronavirus Task Force was stood up by the White House to spearhead federal efforts, with FEMA serving as the designated point for coordinating with states and localities.
You may not have heard of the Biomedical Advanced Research and Development Authority (BARDA), housed under the Health and Human Services Department, but the PAHPA created this authority specifically to procure vaccines and countermeasures to chemical, biological, radiological and nuclear (CBRN) threats. BARDA has been active, if less public, grantmaking and contracting for COVID-19 vaccines.
As of March 30, Trump has approved disaster declarations for 19 states, Guam and Puerto Rico, and the District of Columbia. New York was the first on March 20. By and large, federal funding was released for crisis counseling to affected individuals in those jurisdictions as well.
As of March 27, every jurisdiction in the United States was under some form of disaster or emergency declaration.
So, what is a disaster?
Another definition of disaster, this one used by the International Federation of Red Cross, is best understood in parts:
A sudden, calamitous event that
seriously disrupts the functioning of a community or society and
causes human, material, and economic or environmental losses that
exceed the community's or society's ability to cope using its own resources.
Though often caused by nature, disasters can have human origins.
The epidemic of 2019-nCoV acute respiratory disease was not sudden; it has disrupted society; it has caused losses of human and economic life; and it has overwhelmed normal response modes. Yet, while parts of the nation struggle to cope, others remained untouched. One debate in the administration and for future historians is the moral question that the harms of prolonged isolation in the form of so many "stay at home" orders and distancing guidance have on the broader economy and individual psychology.
The Spanish influenza pandemic, first reported in April 1918, killed nearly 200,000 in one month alone during a second outbreak that fall. Tellingly, cities took the lead in closing public gathering places and ordering quarantines. A third wave took thousands more lives in early-1919, and the Illinois legislature passed a bill to create a "practical nurse" training program still in place today. Desperate times called for desperate measures.
Judging by the "community spread" of the virus and unprecedented actions to confront it both within the public health and economic spheres, COVID-19 is a disaster, just without the property damage.
Modern emergency alerts work, but diversify
When facing a disaster, agencies must communicate with the public. Mitigation by mass communication is hardly a new concept. Think of coronavirus alerts as reverse evacuation orders.
President Harry Truman signed the Civil Defense Act into law in 1950, the first comprehensive legislation to address disaster relief, at the time focused on domestic countermeasures to attack during the Cold War. The Federal Civil Defense Administration was a forerunner to the Department of Homeland Security, better known for distributing the trademark white and blue apparatus to departments around the country. Still, the agency was subsidiary to states.
A 2009 news article republished by FireRescue1 indicated that the rise of mobile phone use was hampering 911 information-gathering, such as location and reverse 911 capability. At that time, a Tennessee official said 68 of calls into his 911 center came from mobile phones. Almost 10 years later, approximately 80% percent of call volume comes from mobile phones.
Around the nation generally, 911 calls for medical service have not soared on account of COVID-19 cases. New York City is a striking counterexample, where officials asked the public only to call with life-threatening issues. The city and others are redirecting less-urgent emergency calls to non-emergency numbers like 311.
The best way to reach citizens at present is through a mix of broadcast (radio and TV), social media, reverse 911 and Wireless Emergency Alerts (WEA) targeted specifically at mobile phones in specific geographic areas. Notably, Apple announced in 2018 that subsequent-generation iPhones would automatically share location data with 911 centers.
One example: Maryland Governor's press spokesperson tweeted on March 30:
WIRELESS ALERT. In the next couple of hours, Marylanders will receive an alert on their phones regarding Governor Hogan's stay-at-home order. It is the first time we are using this system in the Hogan administration.

— Mike Ricci (@riccimike) March 30, 2020
Air raid sirens and vehicle drive-bys (silent before the advent of sirens) can successfully alert discrete locations like neighborhoods – areas literally in "earshot" of the source –about dangers like tornadoes or impending wildfire. But social media is only seen by users of social media with some internet connection; Reverse 911 can only target landlines; and WEA targets based on location (i.e., via cell towers). A layered approach is thus optimal.
A war on pandemic
With all these ways to alert the public of disaster, when should an agency consider doing so? When imminent risk is determined, particularly as testing and hospital intake data clear eyes.
Urgency often dictates improvisation, but is it time to throw out the rule book or, if there is time and attention span, is it time to review and amend the protocols? Answers to these questions will necessarily vary across jurisdictions, and as the current administration is learning, there are no universals with a pandemic.
Prussian military analyst Carl von Clausewitz wrote, "three quarters of the factors on which action in war is based are wrapped in a fog of greater or lesser uncertainty." The complexities of confronting a pandemic have been illustrated by experience. The national memory has been refreshed with COVID-19. The time for the interagency to draft contingencies or adjust plans now appear best made weekly – throughout protracted crisis – rather than afterward. The perspective of the moment will be more valuable than a distant vantage of another hundred years.
Brooks, the PAHPA proponent, spoke out for the third coronavirus relief bill. "For years, we have said it was not a matter of if we would have a pandemic, but when we would have a pandemic. That when is now." Carter was on the floor – distanced from others – and stated, "None of us have ever experienced anything like this before."
"Now is not the time to look back," Brooks insisted, but instead "to act and to look forward."
New York Mayor Bill DeBlasio was at Dock 90 when the USNS Comfort arrived a week ahead of schedule, adding the equivalent of a hospital to the strained city. DeBlasio said that capacity must triple by May.
"This is a wartime atmosphere," he said. "We all have to pull together. We may have differences in peacetime, but to the maximum extent possible, all have to be as one in wartime."