Treasury secretary says first responders could receive COVID-19 hazard pay
U.S. Treasury Secretary Steve Mnuchin said a fourth stimulus package could include hazard pay for those on the front lines of the crisis
---
By Laura French
WASHINGTON — U.S. Treasury Secretary Steven Mnuchin has said that hazard pay for first responders could be included in future legislation to address the COVID-19 national health emergency.
Mnuchin told CNN Monday that his department has not yet begun work on a fourth stimulus package, as it works to implement the third package passed by the Senate last week, but that hazard pay for first responders and healthcare workers is "definitely something we will put in the next bill."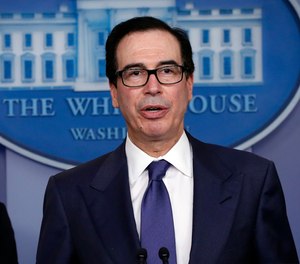 Mnuchin said he agreed with President Donald Trump when he said on "Fox and Friends" Monday morning that his administration was looking into including hazard pay for healthcare workers, some of whom don't qualify for the checks included in the previous package, according to CNN.
The $2 trillion legislation signed by Trump on Friday includes several provisions with implications for fire and EMS departments, including $45 billion for the Disaster Relief Fund, $16 billion to replenish the Strategic National Stockpile of PPE and medications, and $100 million for the Assistance to Firefighters Grant (AFG) program.
The National Association of Emergency Medical Technicians (NAEMT) said in an open letter last week that the package does not provide enough support for EMS agencies and providers, demanding direct funding to departments and immediate protections for personnel, including priority access to testing and reimbursements for childcare.
Read more: