Congress addresses COVID-19 with trio of bills
Third package builds on emergency measures to address pandemic
---
On March 11, the World Health Organization (WHO) designated the multinational outbreak of coronavirus as a global pandemic, triggering alarm bells around the world.
On Feb. 25, there were 14 confirmed positive cases of COVID-19 in the United States, plus nearly 40 victims on an undocked cruise ship. Nearly a month later, the number of confirmed cases in the United States has ballooned to over 30,000.
The U.S. House of Representatives passed the first legislative response at the federal level on March 4, voting by a resounding 415-2 on the Coronavirus Preparedness and Response Supplemental Appropriations Act (H.R. 6074). The bill provided emergency funding to the Food and Drug Administration for research and development, small business loans, and billions more to the Centers for Disease Control and Prevention, the Biomedical Advanced Research and Development Authority, and to community health centers to procure supplies and pharmaceuticals.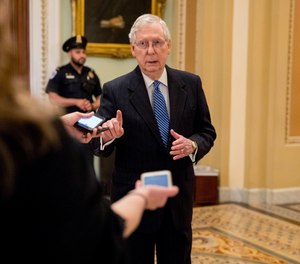 The Senate followed suit the next day, and President Trump signed the bill into law the day after that.
Concerns with second coronavirus bill
On March 18, the Families First Coronavirus Response Act became Public Law 116-127 merely a week after it was introduced. This followed two days and dozens of phone calls between House Speaker Nancy Pelosi (D-Calif.) and Treasury Secretary Steve Mnuchin to negotiate contours of the bill. Pelosi's mantra was "testing, testing, testing," a clear objective as the federal government and labs around the country set about developing test kits after a delay mobilizing because of red tape, a lack of samples to test for, and coordinating gaps that left research and development solely to the CDC.
Old-fashioned American pragmatism is the view that once you do something and see its results, you adjust and recalibrate. This is second nature in the fire service community. Congress appreciates that philosophy as well, often revisiting laws in order to nudge the nation toward its intended goal. Particularly in an urgent setting, bills are imperfect.
Questions about implementation of the Families First bill arose since its enactment as to whether healthcare workers and first responders were excluded from paid Family and Medical Leave Act (FMLA) benefits and paid sick leave. None doubt that school closures have only added to the strain of long shifts without time off at this trying time.
Nebraska Governor Pete Ricketts asked the president and others on the Coronavirus Task Force about it on a teleconference held out of FEMA headquarters on March 19, noting the "need to pop up an alternative daycare, especially for our first responders, public health officials, anybody involved in public safety."
Ricketts wants to waive fingerprint requirements and associated paperwork found in federal law. Some jurisdictions (Sacramento, California, and Westchester, New York, for example) have begun to offer free child care to essential workers like emergency service providers. In other instances, organizations like the YMCA (in Buffalo, New York, for instance) are stepping up to care for the children of health care and public safety workers.
Chiefs and administrators would do well to make formal requests of state and local lawmakers if such ad hoc temporary measures have not yet been instituted. For more information at the state level, consult ChildCare.gov.
Third bill soon to follow second relief package
Next comes the CARES Act – short for Coronavirus Aid, Relief, and Economic Security Act – introduced by Senate Majority Leader Mitch McConnell (R-Ky.) as a more aggressive, more expensive, comprehensive bill to round out the trio before Congress recesses indefinitely while the outbreak evolves nationwide.
Correspondents who cover Congress have compared this bill's scope and urgency to the Emergency Economic Stabilization Act of 2008, which confronted the financial crisis that fall. Indeed, the CARES Act will be historic in its breadth and deficit-based emergency spending.
The CARES Act as drafted is intended to assist the suddenly ailing economy. "Senate Republicans want to put cash in Americans' hands," Sen. McConnell said. "[The bill] would provide the quickest possible access to desperately needed liquidity for small businesses" by freeing up emergency capital.
The legislation "recognizes a big, structural, national crisis requires a big, structural response," said McConnell on the floor before the bill twice failed to advance.
To help the economy, Treasury would be empowered to target loans to key sectors and industries hurt directly by the pandemic. The bill is also intended to "push surged resources to the frontlines of the medical battle against the virus itself," such as first responders and hospitals, to secure testing and treatment equipment like respirator masks and ventilators, McConnell said.
Added McConnell: "We need to go big. We need to minimize new complexity, and we need to move swiftly." But House Democrats might not pass the CARES Act the way the Republican-led Senate swallowed – "gag and vote for it anyway" was McConnell's advice to colleagues – Families First. Usually one to favor a piecemeal approach, the conservative leader has sought to channel the urgency of the moment over his normal policymaking preferences. Pelosi wrote to her members that his bill "is not at all pro-worker and puts corporations ahead of working people. As written, it is a non-starter."
Congress knows its work isn't done
Look for any final bill to emerge to clarify the FMLA question and others raised by its slightly older sisters, and rest assured that subsequent legislation will follow. One bill, for example, would direct the Labor Department to designate an "emergency temporary standard to protect from occupational exposure" to the coronavirus. Pelosi introduced the Take Responsibility for Workers and Families Act on March 23, which includes features of that bill and others.
Over 30 bills were introduced in the first month of the epidemic. These proposals and more are sure to be included in further legislation, so stay tuned but stay safe.
"Our medical workers are already performing a herculean task, and it will only get more daunting in the days to come," McConnell's counterpart Sen. Chuck Schumer (D-N.Y.) acknowledged. "This is a crisis without modern precedent. We are going to have to flex some muscles that may have atrophied."