Burgers, BBQ and brothers: First responder twins share love of food, public safety
Jonathan and Matthew Burgess juggle the demands of their firefighter and LE careers with their built-from-the-ground-up food business
---
Wearing a gun to a burger battle probably isn't the most common occurrence. But, then again, Jonathan and Matthew Burgess aren't your typical competitors.
The dynamic twin duo gained fame after participating in a burger contest on Good Day Sacramento in 2010, but it was their day jobs that caught viewers' attention.
Matthew, who has been in law enforcement for nearly 20 years, is a California law enforcement officer, and Jonathan, who has been in the fire service for 25 years, is a battalion chief for the Sacramento City Fire Department.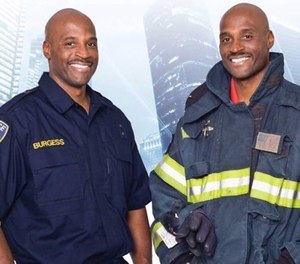 The friendly burger competition sparked an immediate passion, which ultimately led to the opening of their own restaurant in 2012. The brothers had no restaurant experience, but their path in the food industry quickly expanded in ways they never imagined.
Becoming public servants
Born and raised in Sacramento, California, Jonathan and Matthew are the youngest of six kids. Neither of them grew up thinking they would become public servants. In fact, Matthew worked in finance after graduating from college.
"Eventually, I wanted to do something more edifying … something that could help people," he said. "That's what drew me to law enforcement. I wanted to make a difference in the lives of others."
For Jonathan, he wasn't sure what he wanted to do after high school. He thought about the military, but his ultimate career choice was swayed by his dad's cousin, who was a firefighter.
"I remember as a kid going to Station 12. And every kid, at some point, says, 'Hey, I want to be a firefighter.' It didn't come back full circle until I was in college," he said. "When I was in junior college, I saw an engine respond across the street from my house and I said, 'Oh, that's what I want to do.'"
He started taking the necessary courses and was hired as a firefighter-paramedic by 21. He worked his way through the ranks and, eight years ago, he became a battalion chief. "I took the battalion chief test and came out number one on the list," he said.
And, like a lot of firefighters and police officers, many have a side job or passion outside of their public safety career. Their side passion-turned-business became the Burgess Brothers' "something else."
"Food is an outlet for me because it doesn't keep me so focused on law enforcement that I don't have an outlet to just pour something else. It's almost therapy," Matthew said.
Both jobs, he said, serve people – just a little differently. "If you look at the correlation to food and what we do in public safety, it's all still a service. You're committed to serving people and what better way to bring people together than by food?"
'Food has always been a passion'
At six years old, Jonathan and Matthew started cooking with their mother in the kitchen. Their food knowledge, Jonathan said, comes from her.
"She never used any recipes. She'd always say, 'Well, maybe it's got to taste like this … a pinch of this, a pinch of that,'" he said.
He also learned a few cooking tricks in the fire service over the years: "There are some really incredible cooks in the fire service. I took what I knew at home and merged that with some diverse experiences."
There's one homemade recipe, Jonathan said, that's unlike any others: mom's cornbread. Eventually, Matthew came up with the idea of packaging and selling the homemade cornbread mix. Jonathan was skeptical – at first.
"Matt was like, 'Hey, we're going to do this.' And I'm like, 'Really? We're going to give mom's recipe out?' He goes, 'No, we need to share this with the world.'"
The packaged cornbread mix doesn't give away any family secrets, but it has been the perfect way for fans to taste an original recipe – with a pinch of this and a pinch of that.
The brothers also sell their own BBQ sauce and a ChurWaffle Iron, which is used to make a combination of a cornbread waffle and a churro. The ChurWaffle, Matthew said, is a fan food favorite at Levi Stadium – home of the San Francisco 49ers.
But, in true public safety fashion, they realize the importance of giving back – both to their public safety community as well as fellow restaurant owners. For instance, a portion of the proceeds from each sold bottle of their BBQ sauce goes to the Firefighters Burn Institute, a nonprofit organization founded by a Sacramento fire captain and Sacramento fire union.
Most recently, they have focused their efforts on helping struggling restaurant owners and residents during the COVID-19 pandemic.
Paying it forward
After noticing many residents, especially the elderly, were in need of warm meals during the pandemic, the Burgess brothers teamed up with three local restaurants to provide seniors and others in need of prepared breakfast, lunch and dinner meals. The meals can be picked up or delivered four days a week, Matthew said.
"Finding those three other restaurants gave them a piece of the pie – it wasn't us just keeping it to ourselves. It allowed them to produce the meals and then we paid them for that service," Matthew said. "And, whatever we got in, we gave it back out. We're always focused on paying it forward."
Last month, they were also awarded a contract to fill a statewide PPE gap due to COVID-19. Their line of NIOSH and FDA-approved masks include Level 3 Non-CoreComfort Band masks, Level 2 masks and Level I masks.
"We are committed to providing the highest standards in offering a quality Level 1, 2 and 3 masks and we're honored to step up to help our state as well as others across the United States," Jonathan said. The masks, he said, incorporate DOTZ technology, which enables users to verify mask authenticity.
Giving back, Jonathan said, is a no-brainer for the brothers: "We do it because we love it. We do it because there's a passion for it and we wouldn't change it for the world."
The food industry, Matthew said, also involves a level of sacrifice – something they're both familiar with as acting public servants.
Brotherhood and business
Having his brother as a business partner, Matthew said, ensures he always has someone to lift him up: "It's not always easy. It's just not."
However, their brotherly bond, he says, challenges them in ways a non-family business partnership couldn't.
"We have our different skillsets and personalities. Personality-wise, I think I'm more engaged with people and he thinks from a higher-level platform," Matthew said. "The other side of the skill set is that I'm more creative – so I think more research and development as far as product recipes and visuals."
Jonathan agreed, noting his focus is on the strategics: "I look into the future and plan. And he is more of a, 'Hey, I'm going to execute.' He can execute and I look at the overall strategy – like where we go, where we want to be, and, in some cases, how to get there."
All in all, Jonathan said he wouldn't change their partnership for the world: "He's my best friend." But, even at 47 years old, they still enjoy jabbing at each other like many brothers do – including the reasoning behind the victor of the infamous burger battle.
"I was intimidated by the gun. Like, really, who takes a gun to a burger battle? You didn't have to bring that to cook hamburgers," Jonathan joked.
Meanwhile, in true brotherhood fashion, Matthew fired back, saying: "I'm just the better cook and he won't leave it alone. I'm like, 'Just get over it.'"
Their healthy sibling rivalry, Matthew said, is the glue that holds them together. But there is one particular detail that many fellow twins can sympathize with: "Jonathan is five minutes older than me and he tries to hold that over my head."
Matthew does, however, always have an easy comeback: the original burger battle champ title.
NEXT: Racer by day, cop by night: An officer's journey from homelessness to pursuing her dreams