Common questions for an infection control and prevention officer
When and where to quarantine, how to protect our families, if it's OK to get take-out to the station – and more questions answered
---
By John Price
As we face a new threat in COVID-19, first responders across the country will naturally have many questions, some related to infectious disease protocols.
As the infectious control and prevention office for the Fairfax County (Virginia) Fire and Rescue Department, I am privy to many virus-related concerns and work to share accurate information with our members.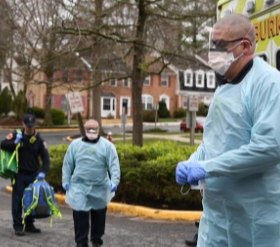 The Fairfax County Fire and Rescue Department relies on the guidance from the Centers for Disease Control and Prevention (CDC), the Fairfax County Health Department and the Infectious Disease Physicians, Inc. (IDP) in ensuring the safety of all personnel. Of course, the research and information we received about this disease is always changing, meaning we must stay current on the latest developments.
I answer my phone at all hours of the day, and night, to hear questions, comments and concerns from our members about COVID-19. Here are some common questions and answers.
What's the biggest risk – saliva, coughing, touch?
From what we know of the disease, respiratory droplets are our biggest concern.
We have a procedure for when we arrive on the scene of a suspected or test-confirmed COVID-19 patient: After the initial assessment, we hand an ear-looped surgical mask for the patient to wear. The surgical mask will prevent provider exposure to the patient's droplets, breaking a link in the chain of infection.
Our next obstacle is how long the virus lives outside the body. Information ranges from two hours to two days to two weeks, which is why we stress appropriate PPE consisting of gloves, eye protection, face shield, an N95 respirator and gown.
I've been told to quarantine. Now what?
We are asking our providers to quarantine after a high-risk exposure. When we have a provider exposed to a suspected or test-confirmed COVID-19 patient, the on-duty safety officers determine if the exposure is a risk or non-risk exposure. If the provider was wearing their appropriate PPE correctly, it is determined to be a non-risk exposure.
Risk exposures are reviewed by the department's infectious control and prevention officer (ICPO) in consultation with our infection disease physician. The review will determine if the risk exposure is a high risk or low risk.
High-risk exposure cases result in our providers in quarantine until the patient is determined to not meet the criteria for testing or was tested with a negative result. In these cases, the provider returns to work. In cases involving a source patient positive for COVID-19, the provider remains in quarantine for 14 days from the date of exposure.
The quarantined provider can reach out to the ICPO, Public Safety Occupational Health Center, the Employee Assistance Program, Peer Support Team, and their local health department for questions.
Should the provider begin to show sign and symptoms of COVID-19, the provider will be in isolation, seek medical advice to confirm a COVID-19 diagnosis. The provider remains in isolation until the illness, along with the signs and symptoms, have passed.
What is the best place to quarantine or isolate? Is it OK to do so at the station, away from other members, or does it have to be at home?
During quarantine, providers should stay at home except for medical care, be separated from family members, other people and animals in the home.  It is recommended the provider call ahead before doctor visits, avoid sharing personal household items, clean all "high-touch" surfaces daily and self-monitor symptoms.
How do I protect my family and prevent spread between my house and the station?
With every phone call I make to our providers in the field, I always end the conversation with, "Self-monitor, wash your hands and stay informed."
If I start showing mild symptoms, what should I do? How do I know it's not allergies?
If providers are showing signs and symptoms of COVID-19, they will be asked to get tested for the virus. If the test results come back positive, they will be asked to isolate themselves for the duration of the illness.
The provider's shift will be notified of positive results and ask to self-monitor for signs and symptoms. Each provider will complete an Infectious Disease Exposure Report citing the sick provider as the source patient.
Is it OK to get delivery/take-out to the fire station?
While we're doing our part in maintaining social distancing from large crowds, we also must rely on the fact that the people cooking and delivering meals are in good health. I know there are some food deliveries being done where the food is left on the doorstep. Getting delivery/take-out helps the local economy in this tough time, so it's left up to stations/shifts whether they are comfortable.
If we treat a suspected COVID-19 patient – but we don't have confirmation – do I need to quarantine? Isolate? Nothing?
For those designations, we simply ask the providers to self-monitor for signs and symptoms, regardless of the outcome of the patient's assessment in the hospital.
For our providers, and those working the front line of this pandemic, self-monitoring is the new normal. We should not be quarantining ourselves, outside of a high-risk exposure, when we don't even know if the patient has even qualified for COVID-19 testing.
If we run out of masks, what's the next best thing to use?
Our procedure for dispatched incidents of suspected or test-confirmed COVID-19 patients is to have two providers approach the patient, begin their assessment and ask if the patient can walk to the medic unit. This will allow only two providers in close proximity of the patient, limiting the exposure and limiting the PPE used.
Because we are still learning more and more about this disease, our department has plenty of personnel with out-of-the-box thinking that will help limit the exposure to our personnel and save our resources. We have established an email in the department for those with questions and suggestions to assist us.
Our supply is in good shape, but as we look into the future, we will continue to look to conserve PPE where possible and find alternatives that can be used to ensure our safety.
Should police officers still go on EMS calls? All? Some? None? From an infection control standpoint, why should police officers go or not go?
We are working closely with the police department sharing information and ideas. And it wouldn't surprise me if we're not already sharing our resources on the scene if one or the other is in need.
About the Author
John Price, NREMT – paramedic, is a fire captain and infectious control and prevention officer for the Fairfax County Fire and Rescue Department, serving in the Health, Safety & Wellness Division. He began his fire service career as a volunteer in Woodstock, Virginia, before being hired by the Warren County Fire and Rescue Department. He joined the Fairfax County Fire and Rescue Department in 2005.