COVID-19 protocols tested during Bighorn Fire operations
Crews practiced social distancing, worked in smaller pods and held virtual briefings to help keep members safe
---
Eric Barker,
Lewiston Tribune, Idaho
The hot, dangerous and sometimes tedious job of fighting wildfires is being made more challenging this summer by the need for the men and women who do the work to social distance at the same time.
That includes firefighters swinging Pulaskis and shovels as they scratch in fire lines and those working on the incident management teams that oversee fire suppression efforts.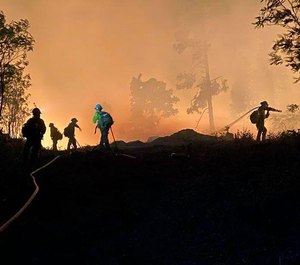 Mike Goicoechea heads one of the Type 1 teams in the Northern Rockies and recently returned from a two-week stint on the Bighorn Fire near Tucson Ariz., where he was able to test COVID-19 protocols. Arizona was a hot zone, with as many as 1,200 new cases a day, Goicoechea said.
His team practiced the same types of actions being adopted around the country and globe — keeping 6 feet apart from co-workers, wearing facial coverings when social distancing isn't possible and good solid hygiene. Instead of working in big groups, the team was organized into smaller pods.
"There was a lot of spreading out the firefighting resources, not a big camp anymore," he said. "There were multiple base camps, if you will, that have all the logistical support that we need for firefighters and there were several spike camps placed out around the fire."
Instead of having briefing meetings at a central camp, they were streamed virtually when possible or held over radio when needed. Community meetings were also held virtually, which Goicoechea said was a challenge for his team's communication staff.
People who had to work close together, like those on the same engine crew or the same ground crew, isolated themselves in pods, or as a "module of one."
"It's almost like you are living and working with your family," Goicoechea said.
The strategy not only helps keep people from contracting the virus, it also makes it easier to isolate the illness to small groups if someone gets sick.
"That is definitely part of the engineered design, to spread them out so if something like that does occur you don't essentially take out the whole camp and the team, as has happened in past fire camps, not with COVID but like a norovirus outbreak or strep throat," he said.
Eating also was different. Instead of meals being served cafeteria style, they were prepackaged and served to the spread out groups. Delivering the meals was challenging, and Goicoechea said firefighters missed the salad bar in particular.
But he said firefighters are safer and less likely to be exposed to the virus when they are in small spike camps and isolated not only from bigger groups but also local community members.
"There wasn't a huge issue and concern around the firefighters once they are up on the hill and on the fire," he said. "It's when they are intermingling with the community."
Goicoechea said measures designed to reduce the spread of the illness in fire camps are likely to evolve throughout the fire season, which typically gets busy in the Northern Rockies region starting next month. But the initial protocols seem to have worked for his team.
"I'm a believer," he said. "They obviously have a positive effect if you can take 70 people into a hot zone, and I can safely report as of today everyone made it back home and no one inside my incident management team tested positive for COVID."
Barker may be contacted at ebarker@lmtribune.com or at (208) 848-2273. Follow him on Twitter @ezebarker.
———
©2020 the Lewiston Tribune (Lewiston, Idaho)
McClatchy-Tribune News Service