FDIC 2020 postponed due to COVID-19
Organizers said they are working with the venue and Indiana officials to schedule new conference dates
---
By Laura French
INDIANAPOLIS — FDIC International 2020 has been postponed due to concerns about novel coronavirus (COVID-19), organizers announced on Thursday. 
The conference was scheduled to take place April 19-25 at the Indianapolis Convention Center & Lucas Oil Stadium, and organizers said they are working with the venue and Indiana's Convention & Visitors Bureau to plan new dates for the event.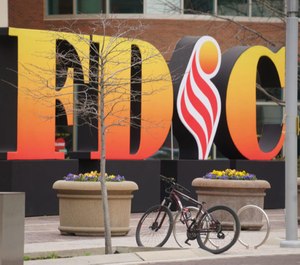 "In light of the recent activities around COVID-19, we are continuing to prioritize the safety and health of our attendees, exhibitors, customers and staff above all else," Eric Schlett, senior vice president of Clarion Events Fire & Rescue Group, said in a statement. "We are in communication with the local and state authorities to ensure we are following all guidelines for the event. I know that we are certainly not alone as many of you are also facing difficult situations in the communities you live in and serve."
Earlier this week, FDIC organizers released a statement that the show was planning to proceed but they would be monitoring the situation and consulting with local health agencies.
The announcement comes shortly after an attendee at last week's EMS Today conference in Tampa, Florida, tested positive for the virus. 
Deputy Chief Billy Goldfeder, who serves as Lexipol senior fire advisor, shared his view on the postponement: "They have absolutely done the right thing. Be it the fact that many fire personnel are unable to travel due to this situation, why risk placing some of America's top fire rescue personnel in a group setting, which is what the disease control experts are telling us to not do? As difficult as it is, the FDIC leadership did what had to be done, and as my Dad used to say, 'this too shall pass' ... eventually."
FireRescue1 Executive Editor Chief Marc Bashoor said he applauds the decision, which will allow the many thousands of responders who would otherwise have attended to tend to the needs of their communities: "The COVID-19 effects continue to escalate, and will continue to challenge our first responders like few local emergencies in the past.  We encourage our readers to continue practicing and preaching social-distancing and standard hygiene practices. We look forward to a future reschedule of the FDIC conference."
FDIC International is the largest industry conference for fire-rescue professionals and was expected to draw more than 35,000 attendees from more than 65 countries, with more than 800 exhibiting companies showcasing products and services. 
For more information, visit FireRescue1's coronavirus (COVID-19) resource page.