'He thought he was safe': Wife of Ind. FF on life support urges vaccine
Pipe Creek Fire Department Firefighter Justin Guillemette is on a ventilator and an ECMO machine after contracting the virus in July
---
By Rachel Engel 
ELWOOD, Ind. — The wife of an unvaccinated firefighter who is currently fighting for his life is asking the public to get vaccinated to protect themselves and others.  
Pipe Creek Fire Department Firefighter Justin Guillemette contracted COVID-19 last month and is now on a ventilator and ECMO machine, according to his wife, Holli, Newsweek reported.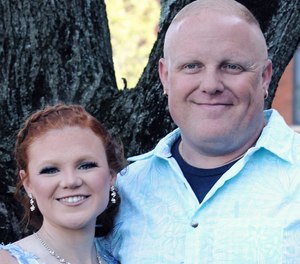 Guillemette was unsure about receiving the coronavirus vaccine, Holli said.  
"It was a little bit of a battle between he and I," she said. "There was fear of the unknown, I think. Also, he thought he was safe. He felt he was taking enough proper protocols and the people around him that he would be OK and it hit him like a ton of bricks." 
Holli created a Facebook page, Justin Guillemette's Journey, to keep family and friends up to date on Guillemette's condition. In the most recent post from Saturday, Holli said his condition had incrementally improved.  
"Right now, the doctors are saying they are cautiously optimistic," the post read. "They have said that this is currently an uphill battle, but they can tell he is fighting really hard to come back to us. Things could still take a bad turn as they warned us today, but I am way more hopeful after the progress these past two days. I'm continuing to pray every day that he eventually gets to come home to us." 

Holli urged others to get the vaccine to avoid having to go through the same situation as her husband.  
"If you haven't been vaccinated for COVID-19, please think about getting it done. This is a very serious virus and I would hate to see it affect any other families the way it has mine," she wrote in a post on the Facebook page.  
"Some people say 'the vaccines aren't 100%.' Well, they may not be 100%, but they may keep you from becoming as severe as he is," she said in an interview with WTHR. "The last thing I ever want to see is anyone else go through what we have." 
The City of Elwood is holding a vaccination clinic in Guillemette's name on Wednesday.