Houston to receive 3,000 COVID-19 vaccine doses for firefighters
Fire Chief Sam Peña said the fire department continues to be plagued by infections and quarantines
---
Zach Despart
Houston Chronicle
HOUSTON — The city will receive 6,000 doses of the Moderna COVID-19 vaccine to inoculate firefighters and health workers, Mayor Sylvester Turner announced Monday.
The fire and health departments will receive 3,000 doses each, with employees who directly interact with COVID-19 patients given priority.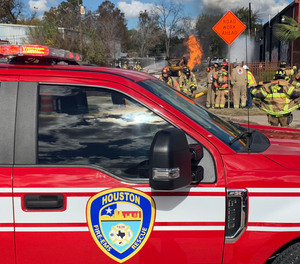 "We'll receive it this week or next week, but either way we're prepared to receive that inventory," said Fire Chief Sam Peña. "We have the tools and equipment to properly store it and a plan to administer those to those employees who want to take advantage of the opportunity."
The federal Food and Drug Administration approved an emergency use authorization for the Moderna vaccine on Friday. The pharmaceutical company expects to produce 20 million doses by the end of December. This was the second vaccine approved after the Pfizer-BioNTech version on Dec. 11; 207,000 doses of that drug had been distributed in Texas through the weekend.
Peña said the fire department continues to be plagued by infections and quarantines. Currently, 180 Houston firefighters are quarantined, including 46 who have tested positive for the virus. Since the pandemic arrived in Texas in March, 421 firefighters have tested positive. Three have died.
A spokeswoman for Harris County Public Health said the county health department also will receive vaccines, though the timeline has yet to be determined.
The Pfizer vaccine arrived in Houston hospitals last week. Currently, state guidelines dictate frontline health care workers and residents of long-term care facilities, where many COVID-19 deaths have occurred, are eligible to receive the vaccine. The next phase of the rollout allows people with a variety of chronic medical conditions to participate.
The COVID-19 metrics in the Houston area continue to worsen, as they have since October. Turner said the positivity rate increased to 11.2 percent, up from 10.5 percent last week.
COVID-19 hospitalizations in the Houston region have increased for 13 straight weeks, according to data from the Southeast Texas Regional Advisory Council. As of Monday, 2,191 patients with the virus occupied beds, the highest since Aug. 8.
As he did before Thanksgiving, Turner urged residents to cancel Christmas and New Year's celebrations and get tested for COVID-19. Multi-household gatherings, Houston Health Authority Dr. David Persse warned, accelerate the spread of the virus.
"To avoid a surge on top of a surge, postpone traveling until sometime next year," Turner said.
Through Saturday, the Houston region had recorded more than 314,000 coronavirus cases and 4,365 deaths, according to a Houston Chronicle analysis.
___
(c)2020 the Houston Chronicle
McClatchy-Tribune News Service