Sizing-up the COVID-19 vaccine: Firefighters, researchers separate fact from fiction
Answering key questions about safety, efficacy, mutations, side effects, conspiracy theories, and what's ahead as new vaccines roll out
---
This is "just firefighters talking to firefighters so you can get the facts."
That's how Deputy Chief Billy Goldfeder described the spirit of the latest IAFC webinar, "Sizing-up 'That Vaccine' … for Firefighters: Separating Fact and Fiction."
To help fire and EMS personnel sort through the vaccine information, Goldfeder led an information-dense question-and-answer session with a panel of fire/EMS leaders and researchers: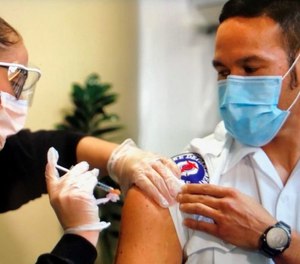 James Augustine, MD – USACS, and IAFC Coronavirus Task Force Member
Mike Policastro, MD – Medical Director, Loveland-Symmes (Ohio) Fire Department
Frank Leto – Captain and Deputy Director of Counseling Services, FDNY
Before delving into the questions, Goldfeder noted the surprise many fire and EMS leaders feel about so many personnel opting out of the vaccine during its rollout.
As FireRescue1 has reported, more than half of FDNY firefighters reported they would not get the vaccine, and the Los Angeles Fire Department has taken to incentivizing members to get a vaccine. Further, 29% of participating FireRescue1 members indicated in a recent poll that they will not get the vaccine under any circumstances. This as the United States passes 400,000 COVID-19 deaths, and more than 100 fire and EMS personnel have died as a result of the virus – and thousands more have been infected.
A root cause of some members' reluctance to get the vaccine is simply education, Captain Leto said, plus the impact of fast-spreading misinformation online. With that serving as the backdrop, the panel answered in real-time some of the most common questions firefighters have about the vaccine.
Was the vaccine rushed?
Dr. Jahnke says yes, "It was very fast – but in a good way."
Jahnke detailed the impact of funding – an unprecedented $9 billion in this case – on fast-tracking the vaccine and why that doesn't mean that it's not safe or effective. Specifically, the investment enabled manufacturers to prepare for mass production well before the vaccine was approved. Normally, manufacturers don't prepare for production until approval is secured, but the investment took away the risk.
Jahnke also underscored that these vaccines weren't started from scratch; they are built upon the efforts of previous vaccines. Finally, she highlighted the significant collaboration among scientists and highlighted the vaccine development as a "shining example of what CAN be done in science."
How does the vaccine work?
Dr. Policastro – a medical toxicologist well-versed in how medications interact with the body – explained that the two available vaccines are mRNA vaccines so they do not engage with DNA. The vaccine essentially "hijacks" the cell to produce a spike protein that triggers an immune response inside our bodies. According to the CDC, "that immune response, which produces antibodies, is what protects us from getting infected if the real virus enters our bodies."
What is the vaccine made of?
The vaccine is made of mRNA, sugar and fat. Dr. Policastro assures that there are no other toxins associated. He noted that other vaccines in the past – those sometimes falsely blamed for causing health problems like autism – had several different agents, but that is not the case with the COVID-19 vaccines.
Is the vaccine effective?
"It's very, very effective," Jahnke said, citing FDA Phase 3 trial results. "You don't need to be a statistician" to see its impact.
Dr. Augustine noted a couple exceptions and uncertainties: "We don't know if it will work for those who have been sick in the last 90 days," he said, adding that people who have had COVID-19 should wait 90 days since their infection to ensure the immune system is ready for the vaccine. Additionally, the vaccine doesn't work as effectively for those who are actively immunocompromised, he said.
What if the virus keeps mutating?
"The virus is mutating," Dr. Policastro explained; however, the main constituents of the virus remain the same, meaning the virus is still 95% effective on all types of the virus.
Does the virus impact women's reproductive health?
There were rumors that the vaccine would trigger the destruction of ovarian tissue. "That is false," Dr. Policastro said. "The vaccine does not involve any changes to ovarian tissue."
Does the vaccine use fetal tissue?
There is no fetal tissue in the vaccine. Dr. Policastro explained that fetal tissue from 1971 was used to confirm the vaccine's effectiveness as part of standard confirmation tests, but assures that "fetal tissue was not used in any form or fashion in the vaccine" itself. "It's sugar, fat and mRNA, period," he added.
Is the vaccine safe?
Dr. Augustine described the vaccines as "extraordinarily safe" for adults, pointing out that Phase 3 testing has gone very well.
He added that scientists believe the vaccine is safe for women who are pregnant and breastfeeding, but there has not yet been large-scale testing, so this is a personal issue to discuss with your doctor.
What are the side effects like?
Dr. Policastro said it seems that individuals who have had moderate or severe cases of COVID-19 have more severe reactions to the vaccine than those with mild symptoms: "Your immune system has already seen this so there's an elevated response," he said.
Can you get COVID-19 from the vaccine?
"No, you cannot get the disease from the mRNA in the vaccine," Dr. Augustine said.
What's next for vaccine rollout?
The AstraZeneca and Johnson & Johnson vaccines are next in line to go before the FDA, likely in the next 2-4 weeks. Dr. Augustine noted that the Johnson & Johnson vaccine is a one-injection vaccine, unlike the others, which require two shots.
Interestingly, Dr. Policastro noted that the AstraZeneca vaccine is unlike the other three mRNA vaccines in that it is a DNA vaccine. However, genetic engineering does not allow it to interact with the cell DNA, so there are no concerns about harmful impacts to individuals.
Can vaccines be tailored?
Dr. Augustine shared that when you get the vaccine, you're encouraged to download the v-safe app to monitor your reactions to the vaccine. You'll get a prompt every week to see if you've had any adverse reaction or have gotten sick. This data will help researchers understand if certain groups respond better to certain vaccines.
"One might be more attractive to those over 65, for example," he said, highlighting the uniqueness of the situation: "There's never been a pandemic where there were multiple vaccines."
Several months from now, there might be oral or nasal options available, too, he said.
Augustine further explained that as the vaccine rollouts continue, we might see mandates for workers, much like some professions' mandates for measles, tetanus or Hepatitis B vaccines.  
Are there microchips in the vaccines?
"No, they are not microchipped," Dr. Jahnke assures.
When can I quit wearing a mask in the firehouse?
"Not yet!" Goldfeder emphasized.
Captain Leto added that fire and EMS personnel are doing a good job protecting themselves on calls – masking-up, staying socially distanced, etc. "Where we are getting sick is in the fire stations," he said. "For some reason, we don't believe the virus exists within the walls of a fire station. The masks come off."
Dr. Augustine noted that if all members of a crew are vaccinated, for example, they might be allowed to remove their masks in certain areas of the station.
A sobering story of COVID-19
Following the question session of the webinar, Dr. Policastro shared his personal experience with COVID-19.
Within a few days of a particularly difficult shift in which he intubated eight patients in a matter of 90 minutes, Dr. Policastro didn't feel well. "It didn't feel like a normal virus," he said, so he went to the ER, where he received a positive diagnosis. He was told to quarantine for 10 days. Later that night, he spiked a 103-degree F fever.
Dr. Policastro began checking his oxygen levels, and over several days, they fell slowly. Then six days in, his stats plummeted and he was in severe respiratory distress.
In the ICU, Dr. Policastro was proned immediately, and given antibodies and medications to help his body stave off the advancing infection.
"This is bad," he recalled thinking, worrying that he was going to be intubated.
Dr. Policastro said he was increasingly worried, particularly as he was isolated and couldn't speak to his family: "You have this sensation of impending doom. In the ICU, three people next to me died."
Policastro eventually began to respond to treatment and was moved out of the ICU for continued treatment. But two months later, he's still not done with COVID-19: "I still have a severe cough. I am still fatigued."
Policastro underscored that he was a healthy 46-year-old with "zero health problems" going into his COVID-19 battle – a sobering message for anyone on the fence about the vaccine.  
Editor's note: What questions do you have about the COVID-19 vaccine? We'll do our best to update this article as new information becomes available.