Wildland Fire Lessons Learned Center releases COVID-19 lessons learned reports
The reports seek to improve virus management by sharing lessons from wildland incidents between March and August 2020
---
By Janelle Foskett
The Wildland Fire Lessons Learned Center has published two reports detailing COVID-19-focused lessons learned from recent wildland fire incidents.
The two Rapid Lesson Sharing reports contain short summaries of various COVID-19 lessons learned to improve coronavirus risk management on wildland incidents.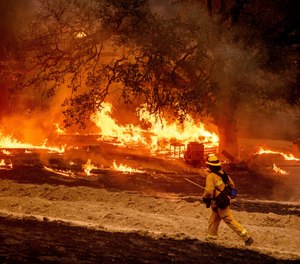 In the second report, the Center shares: "The Rapid Lesson Sharing process facilitated by the Wildland Fire Lessons Learned Center (LLC) has remained a valuable tool for the wildland fire community throughout the summer of 2020 as COVID-19 concerns and realities have persisted. We published an initial summary of COVID-19 related lessons in early July (07/02/2020). Home units, IMTs, crews, and single resources have remained diligent in their endeavor to support community learning, producing 18 additional documents since the initial summary was published. This second summary synthesizes and collates lessons from these reports."
In sharing the reports, the U.S. Fire Administration noted: "Even though they are wildfire-oriented, the reports can assist the rest of the fire service. Topics such as briefings, physical distancing and mask use, use of digital tools, screening, contact tracing, and positive cases are included."
Download the reports on the Wildland Fire Lessons Learned Center's Coronavirus Lessons Summary (2020) page or review below.