Carolina Panthers, American Heart Association team up with Damar Hamlin for CPR training event
"As we all know, CPR saved my life earlier this year," Hamlin said at the event. "Ever since, I've just always wanted to do my part in raising awareness and the importance of CPR."
---
By Mike Kaye
The Charlotte Observer
CHARLOTTE, N.C. — The Carolina Panthers teamed up with the American Heart Association on Monday to train 300 people in CPR lifesaving measures at the Atrium Health Dome.
Nicole Tepper, chief administrative officer of Tepper Sports & Entertainment, recently started an initiative to have every member of the company's staff trained in CPR. Tepper was inspired to seek out training for her employees after she watched first responders save Buffalo safety Damar Hamlin's life after he suffered cardiac arrest during a Monday Night Football game against the Cincinnati Bengals on Jan. 2.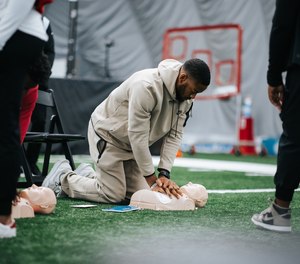 "I know we were all moved by the immediate actions of the skilled professionals that administrated CPR to Damar as the world watched," Tepper said during a four-minute speech. "My good friend, our good friend, Kim Pegula, owner of the Buffalo Bills, also suffered a cardiac arrest last summer, and her own daughter performed CPR and it saved her life. It became imperative to me, for us, as an organization, to be proactive and be CPR educated and trained."
By chance, Tepper met Hamlin at a luncheon in Phoenix during Super Bowl week in February, shortly after discussing the CPR initiative with Panthers director of community relations Riley Fields.
Tepper told Hamlin about her plan for her staff, and Hamlin committed to speaking at the event. Then, on Super Bowl Sunday, Tepper met Nancy Brown, Chief Executive Officer of American Heart Association, and Brown committed to attending the event as well.
Like Tepper, Brown was also watching as paramedics saved Hamlin's life on national television.
"In this situation, the chain of survival was activated perfectly," Brown said. "And our mission is that any person anywhere, that suffers a cardiac arrest, should have that chain of survival available to them. And that's why trainings like this are so important."
The Panthers teamed up with the American Heart Association to host CPR training & education for Tepper Sports & Entertainment staff, players & PSL owners. Bills safety Damar Hamlin also stopped by to share his story & inspire. pic.twitter.com/PU0A9w3Si3

— Ashley Stroehlein (@ashstro) April 3, 2023
Hamilin — who gave a brief speech at the conclusion of the first round of training — said he was grateful to be able to spread awareness about the importance of CPR training.
"As we all know, CPR saved my life earlier this year," Hamlin said. "Ever since, I've just always wanted to do my part in raising awareness and the importance of CPR. I also wanted to thank the Panthers for taking the time out — it means everything to me, because I honestly feel like this is my life's mission, my life's purpose now. I always grew up watching to be a football player, and make to the NFL, and this situation has just brought a whole new life purpose for me. I want to continue to do my part anyway I can."
Brown noted that approximately 360,000 out-of-hospital cardiac arrests happen per year, and fewer than 90% of sufferers survive.
"That means one in 10 people survive," Brown said. "And why is that? That is because the chain of survival is not activated."
Hamlin said the training done Monday was important because of how unpredictable a cardiac arrest can be.
"I just want to keep raising awareness and try to get as many people as we can CPR certified, because you never know when you can be a hero," Hamlin said. "Our trainers, like Nancy said, everything went how it was supposed to go because they were well-trained and well-prepared and they take the proper time out in making sure when moments like that happen, they know what they are doing."
Atrium Health offered a "hands-only" course to Panthers season-ticket holders during the event. Panthers punter Johnny Hekker, defensive end Marquis Haynes, safety Jeremy Chinn and tight ends Ian Thomas and Tommy Tremble were among the players who also took part in the training.
"I was CPR aware," Hekker said. "I knew somewhat of compressions and breaths. I knew there was a ratio — I didn't know exactly what it was. But the in-depth information that we were given today, through videos, through training from the American Heart Association — the trainers who were coming around — the great equipment they have to reinforce all of the techniques was incredible. I didn't get that full certification process done, but I am now much more confident and capable than I was before I stepped in the door today. So, I'm thankful for this event, and I'm just really grateful for the lives it's going to save."
Along with hosting the CPR training, the Teppers — through their David and Nicole Tepper Foundation — made a charitable donation to the American Heart Association to provide support for their CPR mission.
Tepper Sports & Entertainment has hosted several community events since owner David Tepper bought the Panthers in 2018. Prior to the CPR training, Bank of America Stadium was used as an early voting site, drawing 20,000 voters during the 2020 and 2022 elections. The stadium also served as a COVID-19 vaccination site in 2021.
This most recent event was a passion project for Nicole Tepper.
"The feedback, obviously, is amazing," Nicole Tepper said. "It's interesting to hear people say, 'I would not have done this on my own,' or, 'Where would I even start?' So, for them to be here getting certified and also getting educated, and being able to pass that information along to their loved ones or their people in their community, is super important. And so, that alone, is a win for the day."
©2023 The Charlotte Observer. Visit charlotteobserver.com. Distributed by Tribune Content Agency, LLC.
McClatchy-Tribune News Service