Burglars steal $6K+ in equipment from Tenn. VFD
Dozens of items were stolen from the Foster Falls Volunteer Fire Department fire hall in a "forced-entry" burglary
---
Ben Benton
Chattanooga Times Free Press, Tenn.
MARION COUNTY, Tenn. — The Foster Falls Volunteer Fire Department in Marion County, Tennessee, is missing more than $6,000 in equipment after a break-in on Tuesday.
Stolen items include a Stihl chainsaw, a Husqvarna chainsaw, a Honda generator, six angled Streamlight flashlights and one large Streamlight flashlight, a took kit, dual head halogen light with stand, an aluminum ladder, an air compressor with an orange hose, two Kenwood base-mount truck radios and a Motorola base-mount truck radio, according to fire officials.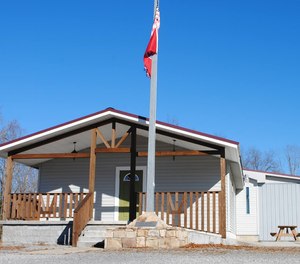 The theft not only left the department short on some valuable equipment, a quarterly board meeting was rescheduled because of it, according to a post on the department's social media page.
Foster Falls fire Chief Jeff Gass wants the community served by the department to know its firefighters are still ready.
"While the recent theft of these items will impact parts of our fire fighting ability, I want the Foster Falls Community to know that we are still on call 24/7 should an emergency arise," Gass said in a separate post on the department's social media page. "We are currently working to replace the necessary stolen items."
Gass said most of the stolen items were marked " Foster Falls Volunteer Fire Department" or "FFVFD."
Marion County Sheriff's Office chief detective Gene Hargis, who is leading the investigation, said Wednesday that Gass discovered the "forced-entry" burglary Tuesday afternoon.
Hargis said an estimated $6,000 to $7,000 worth of equipment was taken.
"We are following some leads at this time — nothing concrete yet — but we're beating the bushes and doing everything we can to try to come up with this equipment," Hargis said, noting volunteer firefighters struggle to get and maintain equipment and the theft hurts.
An unspecified reward is offered for information leading to an arrest and conviction, and Hargis said he'd also like to recover the equipment, too.
"If anybody saw any vehicles or anything suspicious around the fire hall yesterday, if they'd give us a call no matter how minuscule it might seem, it could lead to something," Hargis said.
___
(c)2021 the Chattanooga Times/Free Press (Chattanooga, Tenn.)
McClatchy-Tribune News Service