Former cop who stole $315K from FFs' nonprofit fights to keep pension
Former Allentown Police Officer Corey Cole Jr.'s sentencing was pushed back due to the bid to keep his $47,000 yearly pension
---
Sarah M. Wojcik
The Morning Call (Allentown, Pa.)
ALLENTOWN, Pa. — Corey Cole Jr. was prepared to learn Thursday whether he was headed to county jail or state prison after having admitted to stealing thousands from a firefighter's nonprofit, but issues over whether he'll receive his full police pension from Allentown have delayed his fate for another day.
Cole, 43, of East Allen Township, pleaded guilty in January to access device fraud and theft for stealing $315,000 from the Lehigh Township Fireman's Relief Association. He faces a potential state prison sentence for the thefts which stretched over a 7-year span.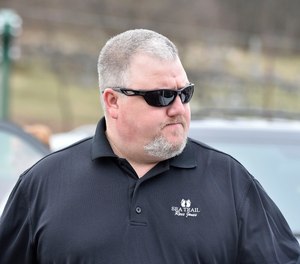 Northampton County President Judge Michael J. Koury Jr. was prepared to sentence Cole when he learned that the former Allentown police officer was planning on forfeiting his pension in order to avoid a court fight. After hearing from Koury, Cole changed his mind and plans to fight Allentown's position that he's not eligible for the money.
Koury said he intended to sentence Cole to time at a local jail with a lengthy probation so he could ensure the nonprofit and the insurance company that covered a large portion of the stolen money would be compensated while Cole could continue to support his family. Koury said this was based on the belief that Cole could continue working as a forklift operator while receiving a yearly $47,000 from his police pension.
"My sentencing scheme was based on making everyone whole," Koury said. "If that's not possible, then I'm leaning toward a state [prison] sentence."
Attorney Gregory Spang explained that the plan was to use the pension payments to help pay back those wronged by Cole, but in March, Allentown informed Cole that they'd be contesting his pension eligibility. Cole served on the city's force from 2000 until 2018, when he resigned as the theft investigation began to unfold. Allentown contends that Cole carried out the crimes while a city police officer, rendering him ineligible for the money.
Spang said a initial look at qualified attorneys and case law in the matter didn't look promising for Cole. So instead, Cole decided to take the $73,226 lump sum from his pension contributions and use if for restitution for the fireman's relief association. But after Koury pointed out that Cole would receive his contributions regardless of whether he won the dispute over the rest of the pension, he agreed to fight the city's refusal to pay the full amount.
The pension hearing is slated for July so Cole' sentencing was pushed back until Sept. 18.
Cole's sister testified that despite is wrongdoing in this case, her big brother led an otherwise admirable life.
Cole, grew emotional as he described the day he owned up to his fellow volunteer firefighters and his family about the thefts.
"That was the scariest thing I'd ever done. I had betrayed everyone," Cole said.
He recounted how he told his wife after he had come home from the doctor's office. She knew something was wrong and feared he'd received bad news about his health. Instead, she learned that the family's financial future was at risk. Cole said he lost his home, his car and the career he dreamed of since he was a child.
He said his wife is "still trying to wrap her head around why I did it." His children struggle with the knowledge that their father may not be around for important milestones.
Cole wrote more than $221,000 in checks that benefited him, spent nearly $74,000 using the association's bank card and created nearly $20,000 of fictitious invoices, authorities said. On Thursday he said he wished he could pinpoint why. Maybe it was greed or opportunity, he said. He wondered if it had to do with jealousy over the financial success of others he knew.
"You have no idea how sorry I am for the hurt I caused," Cole said, directing his comments to members of the association who were there for the sentencing. "These firefighters are a brotherhood. And I threw that all away."
———
©2020 The Morning Call (Allentown, Pa.)
McClatchy-Tribune News Service