Firsthand account: 10 lessons from a massive flood
When 11.7 billion gallons of water overwhelmed Colorado, fire and rescue crews answered the call — here's what we learned
---
One of the largest disasters I have ever been involved with started in the middle of a plate of rigatoni when I heard our south units in Erie, Colo., speak of significant volumes of rain. 
It was 17:30 on Sept. 11. I was in Longmont, Colo., just to the north of Erie. Mountain View Fire Protection District covers a large area, so I pushed the pasta aside and headed south in case things got interesting.
While driving, I noticed that all the irrigation and run-off ditches in the area were running high, but had not over-topped just yet. That was not surprising as it had been raining for the past two days.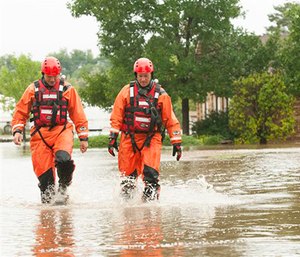 The most recent rain event had caused localized flooding south of our Station 6 near Coal Creek. Blocked storm grates had increased the flooding, damaging many houses in that area.
I wasn't too worried that this would happen again. As I drove through a downpour, calls started coming in for downed power lines along a main artery into the town from the local interstate.
Multiple storm-related calls
We blocked traffic in both directions for about a mile to prevent shock while waiting for the power company to repair about six separate line breaks. We lost power to the area around 18:15 as rain continued.
As crews waited for power company reps, the volume of water running down the road increased to the point where soil from local field was being washed downstream and starting to flood Coal Creek and run into the local high school. Normally our crews would assist, but another call to the middle school's fire alarm systems had thinned out our resources.
At about 18:30, I coordinated with local police, who had set up an emergency operations center, to establish any rescue necessities in the areas that had flooded before. The storm drain that had caused issues a week before was working well at this point.
But water continued to flow into Coal Creek; the rising water had overtopped the road, effectively trapping smaller vehicles and stalling others. No rescues were called and by 20:30 the rain subsided and vehicles were able to cross the Coal Creek Bridge. Power returned around 21:00 and the local EOC stood down.
Mutual aid
I made it back to my station around 22:00 and got ready for bed. Around 02:00 I received a call from our dispatch center asking if we had any water-rescue resources that we could send up the canyons, as there were multiple collapsed structures and swiftwater rescues. 
Our department has limited water rescue resources, but I called the number given me to inquire about specific needs prior to sending personnel to an unknown situation. The individual I called said that water rescue capabilities of all levels from all the surrounding fire districts had sent to Lyons or Boulder. 
It quickly dawned on me that there were significant water-related disasters occurring along Boulder Creek, Lefthand Creek in Jamestown and most importantly the Saint Vrain River in Lyons. All three converge in our district. 
I had to refuse to send our limited capabilities out of the region as there were no other resources left for what could be significant water rescues in the near future.
Preparing for the worst
I contacted our chief of operations who was engaged in incident management at the Boulder EOC and set in motion a plan to staff extra apparatus and ensure we could deliver service to both sides of the district once the flood waters divided it. 
I also called back swiftwater-rescue certified individuals to staff another specialized rescue apparatus. Our district had recently completed surface, flood and swiftwater training to include the use of a personal watercraft (Kawasaki Jet Ski) for water rescue scenarios.
I drove the district to assess the water levels at all the bridges that crossed the two creeks and one river. At 05:30, water was up to the bridge girders and rising quickly. 
About this time came emergency traffic from the incident teams in Lyons and Jamestown advising all personnel downstream to evacuate due to collapses in multiple dams. Six dams had collapsed, 20 had overtopped and that a weather system parked over the area had dumped 14 inches of rain in four days. 
In some areas the sheer volume of rainwater run-off caused walls of water 20-feet high to rush down canyons that had no vegetation due to recent wildland fires. And our district was in its path.
People trapped
Water that normally running around 200 to 300 cubic feet per second had spread a half mile wide and was running 10,000 cubic feet per second. It spread out over the banks of the St. Vrain, flooding farm fields, destroying greenway paths and uprooting trees and utility poles without difficulty.
Our first call, around 08:30, was to rescue a couple trapped on their second floor as floodwaters washed through their first floor. When we arrived, the swiftwater training we recently completed had not prepared us for this level of impact.
Every few minutes, you could hear loud cracks as 12-inch circumference trees struck the bridge and shattered. You could also hear trees breaking as they fell into the creek or other trees. 
Our first structure was the one with the highest risk and the greatest danger to the civilians. This home had beautiful stucco covered fence structures that funneled the water into and around their home. Horse trailers had been picked up and wrapped around trees. A pick-up truck sat abandoned 30 yards from the home with water up to its hood. 
Dangerous 'rescue'
Our plan called for a three-person team to cross the torrent to reach the couple who were using their phones to video the rescue. The first team member struggled but made it across. The second and third members lost their footing, forced to use the water rescue rope to swing them into the far side of the rushing waters. 
Once reached by the team, the couple was ready to leave until they saw how they were going to have to cross the water. At this point they refused and would wait until the water lowered. We advised them that the rain was expected to increase, not decrease, but they refused.
Our team reluctantly left them in their home to continue the remainder of the mission. Three other homes in the area were contacted and all persons we talked to were perfectly fine with staying in their homes.
We advised them that staying was not be the best option as the water would be constant for a few days, may increase significantly and more than their homes could be lost. Later that day, a military six-by-six had to be brought in to rescue them; the six-by-six was almost lost to the volume of moving water.
Chin pinned to the car ceiling
Over the next few days, our team rescued people stranded in homes, cars and trees. Most rescues were simple, putting personal flotation devices on our evacuees and guiding them through the water. 
One rescue required using our watercraft to help extricate a young woman from her vehicle. The water had risen to her chin, pinning her head against her roof. We broke a window, pulled her out, put a PFD on her and moved her on the personal watercraft.
Our team was also tasked with accessing a gas line in a flooded field breached from repeated assaults from rushing debris. We found and secured the valve.
As we ran from call to call for water rescues, our district was evacuating areas in the flood's path. Getting from point A to point B was no longer a straight-line proposition. Road closures became required knowledge to reduce already extended response times. 
Water moving at 10,000 cfs punishes structures, especially bridges. While many bridges withstood the pounding, often the water diverted around both ends of the structure and washed out the road base, collapsing the roads leading to the bridge.
Strained resources
In most cases, evacuation just required going door to door. However, those with limited mobility needed assistance being evacuated. Teams of two helped move them to a patient collection point for evacuation on busses. 
To make matters worse, on day two we were advised that the water supply systems had failed. There was no water pressure and the water was considered contaminated. The pipes supplying the water district had been washed away; in some areas missing pipe sections were 300-feet long. 
Associated with the no-water issue, some areas were crippled with a no-flush directive as sewage systems failed. The district had portable toilets and pallets of drinking water delivered to all stations. Our command team worked with the FEMA resources through local EOCs to hand out water to residents in our area.
During our evacuation of the mobile home park we noticed that a large amount of water reaching this area was from a failed irrigation ditch. This was the second time in two months a wall in the ditch had failed. 
An excavation company hired to dig a new flow path dug through three metal pipelines. As all the gas wells in the area had been shut down for prevention, no leak occurred. All energy companies were contacted to ensure that they would assess their local wells prior to turning them back on. 
Once the ditch was diverted, we used four, 12,000 gpm pumps to remove the water from the mobile home park. After approximately 18 hours, the task was completed.
As the water recedes, significant challenges lay ahead. At this time, there are only eight known fatalities and 60 unaccounted for across the entire state. Estimates put losses at more than $2 billion dollars with the number of damaged homes at 17,500. More than 11,700 individuals were evacuated.
10 lessons learned
With the event largely behind us, it is time to reflect on what went right and what went wrong. Here are the top 10 things we learned.
1. One cannot have enough water rescue equipment at a time like this. We rapidly used PFDs for the water rescues. In some cases, we forgot to retrieve them. By the time the local EOCs were able to order and replace them, we were about out.
2. Personal watercrafts work well in deeper water, but in water only a foot deep they can scoop mud into the impeller. An inflatable boat would work better in a shallow draft and has pinpoint access using ropes connected to the raft for stability and steering.
3. Swiftwater rescue training does a great job preparing an individual for water running around 500 cubic feet per second. This event was projected to be about 10,000 cubic feet per second, forcing rescue personnel to be slower and more careful.
4. During rescues our personnel were pelted with debris ranging from trees, railroad ties and barrels to colonies of prairie dogs. We also had to anticipate health impacts from failed sewer treatment plants, septic systems and collapsed or displaced oil storage battery tanks.
5. That people want to see you in times like this, doesn't mean that they want to leave with you. Some will assume they are fine under the circumstances until water or food run out, or until the level of water continues to rise as you said it would.
6. Most fire districts around us sent their water rescue capabilities into the mountains to assist areas with significant flooding. When that water ran into the foothill areas, there were very few water rescue capabilities left.
7. Emergency operations centers had to deal with looting, road closures, oil tank failures, water line breaks, electrical systems collapsing and all that water. While they faced their tasks as gracefully as possible, they were unable to meet the request for logistical needs in the field in a timely manner. Look for alternative means to gain resources or pre-negotiate contracts for equipment and services. We were lucky to be able to provide for the basic human needs of our stations early in this event.
8. Swiftwater rescues took much more time as the unit assigned to this task had to keep up on road closures to ensure initial access routes could be completed and end up at the right area in the shortest time possible.
9. While we were not faced with the violence or mass casualties, we all worked long hours under stressful conditions. After the week-long operation, crews became short-tempered, forgetful and lethargic. It is important to crews that this type of physiological response was normal. Crews should be monitored for the next few months for extended stress-related issues.
10. Many of the homes lost belonged to firefighters. These brothers and sisters should expect our support and assistance helping to get things back to as normal as they can be.
It will take a few more weeks to be able to provide running water and sewer to homes in some areas. It will take significant effort to replace the homes that were lost. We may not have road constructed to get people back to their homes before the winter arrives. It may take as long as two years to get roads and bridges back to the state they were before the 10-day rain.
But make no mistake, all the personnel involved in this event can take home the pride of a job well done. Neighborhoods, individuals, private organizations, rescue groups, local and regional fire districts and emergency management personnel came together to deal with the impacts of the greatest flooding seen in Colorado in maybe a millennium. I am proud and honored to have been able to serve with such an august group of professionals.