Major East Coast storm kills 5, including 2 children
Five people, including 11- and 6-year-old boys, have all died from falling trees after a fierce winter storm bringing high winds and heavy rain slammed the East Coast
---
Associated Press
BOSTON — An 11-year-old boy in New York state is the fifth person reported killed by downed trees in a fierce winter storm bringing high winds and heavy rain to the East Coast.
A tree crashed through a house in New York's Putnam County shortly after noon Friday.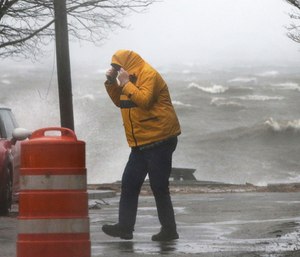 A 6-year-old Virginia boy and adults in Virginia, Rhode Island and Maryland also died Friday due to fallen trees or tree limbs.
Meanwhile, police in New York reported that several barges broke loose in the Hudson River during the storm.
The barges were part of the construction project for the new Mario Cuomo Bridge, formerly known as the Tappan Zee Bridge.
The Coast Guard and the New York City Fire Department as well as commercial tugs responded.