SoCal firefighters respond to dozens of calls following 6.4-magnitude earthquake
Departments conduct surveys to identify damage; residents warned to expect aftershocks
---
By FireRescue1 Staff
RIDGECREST, CA — A 6.4-magnitude earthquake struck Southern California and parts of Nevada on Thursday, with dozens of aftershocks rattling the region throughout the morning and afternoon.
According to the Los Angeles Times, there have been no immediate reports of deaths or serious injuries as a result of the quake.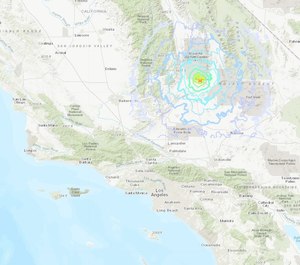 The Kern County Fire Department shared on social media that it was "working nearly 2 dozen incidents ranging from medical assistance to structure fires in and around the city of Ridgecrest."
Kern County Fire reported that a strike team of Type 2 engines and one handcrew were en route to the area, as surveys were being conducted to inspect critical infrastructure, including highway overpasses. The department also shared news of evacuations of a local hospital and cooling centers being set up for residents.
#EarthquakeResponse Update: Update:1 KCFD strike team of type 2 engines enroute, 1 handcrew enroute.
Surveys still continue to inspect critical infrastructure including safety of highway passes through area canyons. #kerncountyfiredepartment

— Kern County Fire (@kerncountyfire) July 4, 2019
The 10:33 a.m. earthquake was centered near the city of Ridgecrest in Kern County, approximately 100 miles northeast of Los Angeles. The quake was felt as far away as Long Beach, California, and Las Vegas.
The Los Angeles Fire Department shared on social media that all 106 fire stations completed surveys of their districts and found no signs of significant damage.
California Governor's Office of Emergency Service (Cal OES) tweeted that emergency operations centers are being activated in response to the earthquake.
The State Operations Center and Regional Emergency Operations Center are activating in support of the swarm of earthquakes near Ridgecrest. Supporting mutual aid requests for fire/rescue resources to the region at this time.

— Cal OES (@Cal_OES) July 4, 2019
The Los Angeles Times also reported that the U.S. Geological Survey (USGS) is dispatching geologists to Kern County look for a surface rupture and gather other data.
In a press conference at the Caltech Seismology Laboratory in Pasadena, California, Caltech seismologist Lucy Jones warned residents to expect more aftershocks throughout the day.