Mass. commission: Firefighter to be reinstated after nearly 10 years
Gerald Alston sued the town in 2015 after a Brookline Fire Department lieutenant used a slur in a voicemail left on his phone
---
Jesse Floyd
Wicked Local Metro, Needham, Mass.
The state civil service commission has ordered firefighter Gerald Alston reinstated, the latest chapter in a story beginning nearly a decade ago.
"This is vindication," Alston said Monday. "All these years, I've been viewed as someone who is paranoid, or doing this out of spite and this proves otherwise."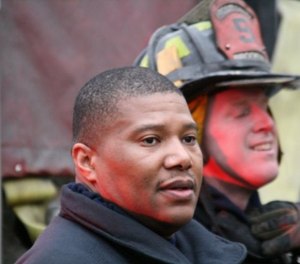 In May 2010, a lieutenant in the Brookline Fire Department left a voicemail on Alston's phone which included the "n-word." In 2015, Alston, who is black, sued the town in federal court, claiming a systemic pattern of racism and retaliation in the town.
In 2016, the town fired Alston, arguing he was fit to return to duty and refused to do so.
According to Alston's attorney, Brooks Ames, the ruling reinstates [with pay] Alston as a firefighter permanently unable to return to work. The town has 10 days to appeal to the commission and 30 days to appeal to the superior court, Ames said.
As of Monday, there is no word on what the town plans to do, he said.
This is the second time the Civil Service Commission reviewed Alston's case.
The commission had previously determined that Brookline had just cause to fire Alston. Alston appealed the decision, sending it before Associate Justice of Superior Court Douglas H. Wilkins, who determined the commission needed to review Alston's discrimination allegations and the circumstances of his firing.
In the ruling, the Civil Service Commission wrote the town failed to adequately discipline the officer involved in the original dispute, failed to address retaliation against Alston and promoted a false narrative painting Alston as paranoid and unable to move on from the comments made in 2010.
Citing what it called a series of errors and omissions, the commission ruled the town acted in bad faith, and because of that, could not use the inability of the employee to return to work as cause to fire him.
According to Alston, the ruling may mean vindication, but the fight is not over. There is a the pending federal case, which continues to advance. According to Ames, the town has until the end of March to file to dismiss that case.
———
©2019 Wicked Local Metro, Needham, Mass.
McClatchy-Tribune News Service