iDELP aims to create a more diverse, inclusive fire service
iDELP fellow Chief Debbie Sommer talks about her experience in this new IAFC program
---
The fire service has long struggled with issues of diversity and inclusion, and this is often most apparent in leadership positions. As such, leaders within the International Association of Fire Chiefs (IAFC) have been working to build and foster an environment that promotes diversity, not only within the organization but also throughout the fire service. One such approach is the through the IAFC's Diversity Executive Leadership Program (iDELP).
John Butler – fire chief with Fairfax County (Virginia) and FireRescue1 editorial advisory board member – serves as co-chair for iDELP program. He explains that the origins of the program started in 2017, when the IAFC board of directors asked a handful of fire/EMS leaders to gather at IAFC headquarters to collaborate on a program to help improve the diversity and inclusion among IAFC leadership and national fire/EMS groups. "We did not take this challenge lightly," he said. "We built the best version of iDELP we could, from scratch, back then. Thankfully, the program attracted extremely strong leaders who've already brought significant improvements to the program with their own ideas, experiences and skills."
One such leader is Assistant Deputy Chief Paramedic Debbie Sommer of Chicago Fire Department EMS, who was part of the first group of iDELP fellows, having just completed their two-year term. I had the opportunity to speak with Chief Sommer about her experience with the program.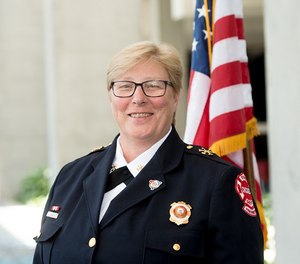 Robert Avsec: Tell me tell me a little bit about this experience and what iDELP aims to achieve.
Chief Sommer: It has been an awesome experience. The whole point of iDELP is to create a group of people who can begin to start moving into committeeships and speaking engagements within the IAFC in order to increase its diversity.
They are really committed to creating opportunities within the IAFC and its sections and divisions for underrepresented groups and women through this new process in order bring more people on board – to get their experiences in the fire service and to make the fire service a more inclusive and diverse workforce, not just at the IAFC level but also to reflect out to the IAFC membership as well.
That sounds like a very worthwhile goal. What were some of your initial impressions?
It was a worthwhile goal, and I was very interested when I first read the notice for the program. I was spending that time with people like Tonya Hoover [National Fire Academy superintendent and former California state fire marshal], Chief Keith Bryant [U.S. Fire Administrator, former fire chief with Oklahoma City, Oklahoma], and Chief Mary Beth Michos [senior advisor at the IAFC and former fire chief for Montgomery County, Maryland] – not just meeting them but getting to know them and collaborating on how to create more diversity in the fire service.
But diversity without inclusion is nothing. We can all say we have this many women and this many African-Americans and this many Latinas and this many LGBTQ individuals, but if they're not part of the organization and part of process, you don't get the buy-in. So, the idea behind iDELP was to try to create those opportunities by presenting ourselves in various functions within the IAFC.
It's been a very cool experience, one I wish a lot more people could've been able to take advantage of. But there were only 15 slots, so they had to whittle down a big pool of candidates.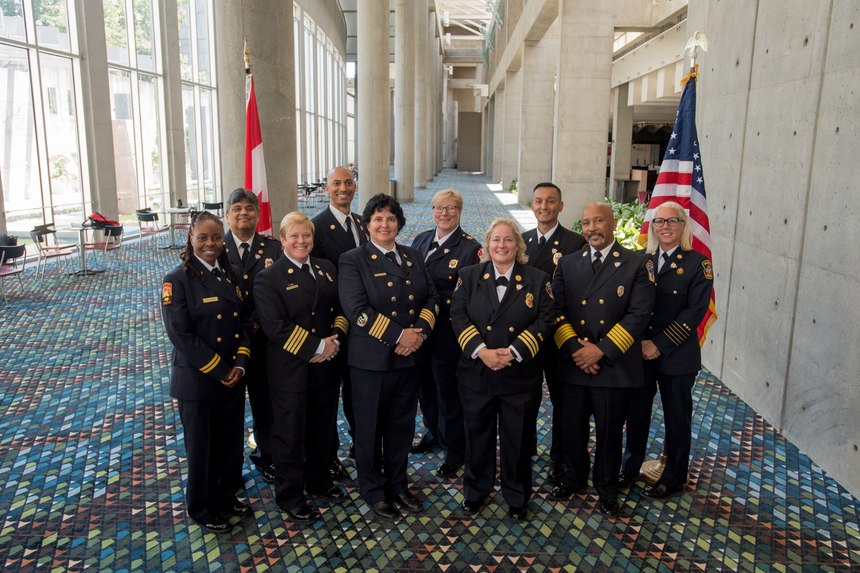 Is this something that's going to occur again?
Yes, this is going to continue every two year for as long as there is a need for diversity and inclusiveness within the fire profession. I foresee that at least for the next 15-20 years this iDELP program and its future fellows are going to continue to be reupped, if you will. Right now, we are the nucleus of the program and part of our responsibility is making it grow.
How do the iDELP leaders and you and your cohorts see this unfolding over the coming years?
Myself and my iDELP cohorts will flow out across the country conducting workshops and presentations at fire service conferences, as well as at fire departments across the country, to give people the information and tools to help create more diversity and better inclusion in the fire service.
Then, every two years, a new cohort will come in, receive their training, collaborate with the iDELP leaders and other existing iDELP fellows through facilitated discussions, white papers, and their participation on all the IAFC committees.
The hope of the IAFC leadership is that iDELP fellows will move into positions on IAFC committees and then to IAFC section chairs, and eventually begin running for seats on the IAFC board of directors.
Tell me more about what you and your iDELP cohorts have been doing the past 2 years?
When we initially arrived at FRI 2017 in Charlotte, North Carolina, we had three days of meetings with a lot of different fire chiefs and the IAFC board of directors, and the IAFC board explained what their expectations and hopes were for us to become more involved in IAFC committees and sections.
We flew out to Leesburg, Virginia, in 2018, and we sat down at the IAFC's leadership conference at the National Conference Center and we worked with the IAFC board of directors on creating their new strategic document for the next two years.
Me and my iDELP cohorts and members of the Women's' Chiefs Council were all assigned to different working groups. In total there were over 200 people working in these working groups, creating documents and making sure that those documents were more diverse, that they recognize that different people are important in how we better serve the communities that we represent.
Tell me more about that document revision process.
We sat down and retooled the entire document – the IAFC Strategic Plan – to be more inclusive of everybody regarding the IAFC's strategic plan of lead, serve and educate. How does diversity and inclusion work in each one of those tracks? How can we make it better? How can we make it more diverse? How can we be more inclusive? How can we give our members what they need?
And at the same time presenting faces that are not normally in the IAFC, women and other underrepresented groups – the primary targets that we are looking to in our efforts to get more people involved.
I've been working with the IAFC's Human Relations Committee (HRC), and at FRI this year, we revised our goals that we wanted to achieve during the next three-year term. And some of those things include reaching out to affinity groups and underrepresented groups within the IAFC to offer them more opportunities, to see if we can get them on board, to create that more diverse environment.
But there's a human element – the dignity and the professionalism that we all need to pass along to each other as we work together. Sometimes the fire service can be a very harsh and uncomfortable place to be, especially if you're a woman or a person of color or some other underrepresented group.
How will iDELP fellows help to change that?
As we rewrote the document, we looked at those things and until we don't need to define our mission values using sex, gender, race, ethnicity, religious affiliation, sexual orientations, until we don't need to use those words, we're going to keep coming at it. It's a work in process and it's very fluid, and I think the younger generations get it. It's the traditionalist and boomers that have the issue with it.
The thing we all must keep in mind is dinosaurs lay eggs! And those eggs are hatching!
You're correct! And that will continue to be a problem, which is why the IAFC realized that, and I think they're doing a really good job at working to deal with this head on. We can't keep talking about this in the background; it needs to come out to the front, and there's going to be some uncomfortable conversations.
On the other hand, when you see people and you get to work with them and develop a relationship with them, then you don't see them as a 55-year-old gay woman who's got four grandchildren. In the future it needs to be, "Oh, that's Debbie Sommer with her spouse and these are her grandkids." My identifier starts to fall away, right?
Where are you and your iDELP cohorts headed now that you're iDELP fellows?
I think that what they're looking for from us is building personal and professional relationships through personal appearances like speaking engagements and participation in workshop fire service conferences and meetings. I just spoke at EMS Today back in February, next April I'll be at FDIC in Indianapolis, and I'll present at the Women in Fire conference. I'll be putting proposals together for FRI in 2020 and Fire-Rescue Med 2020, and hopefully those proposals will be accepted. So, me and my fellow iDELPers will be getting ourselves out there a little bit at a time.
Tell me a little bit about your iDELP cohorts.
Everyone that's in our group has something to offer, whether they're speaking or sitting on a board or committee or working in the background. We critique all the marketing materials that come out from IAFC, like the videos, the slicks [like a magazine], and the printed advertisements to make sure that they're diverse – that it's not showing just one group of people of all men or all white men, that materials are showing that the IAFC is a diverse organization.
Sounds like a very rewarding experience, being the first cohort to complete iDELP.
It's been one of the best. I've been in the service for 30 years now, and I only wish that this had happened 10 years sooner! Then I would have 10 more years to be able to run with this and see what I can do.
But it's been a phenomenal experience! I've been very touched by it and changed, not just as an EMS and fire service professional, but as a human being as well. This group of men and women that I've been involved with the past two years are some of the finest people I've ever met in my whole life.
We come from all over North America and we were just plucked out of a group of applicants, but we gelled in a cool way. If you talk to anybody within the IAFC board of directors or the Women's Chief Council or the EFO or HRC who knows us, they will always tell you that those iDELPers are the craziest, funniest bunch that they have ever seen. We're all very close so that's been really one of the best experiences about the program.
And then there's the resource- and knowledge-sharing that came with the two years of being with this group. We've all got different backgrounds and experiences, and now we're networked so we can share and help promulgate those experiences and knowledge across North America – shoot, around the globe!
Editor's Note: Butler says the cohort selected for iDELP are some of the most incredible changemakers in fire/EMS. "They've done tremendous work improving the diversity and inclusion at their own departments and now, thankfully for the IAFC and fire/EMS industry, they answered the call to be part of iDELP and make the program as impactful as we intended it to be from its inception." 
Butler also notes that the second iDELP cohort kicked off in August 2019 at the IAFC's Fire-Rescue International conference. "We spent the week with the 'graduating' first cohort, along with the new 2019-2021 cohort, discussing courageous solutions to some of the most wicked problems in fire/EMS. We're extremely excited about the future, including the many volunteer leadership opportunities in the future for these incredible changemakers who were selected to be part of iDELP."