Trump meets Fla. firefighters, thanks them for their service
The president said the firefighters are "great people" who do "a fantastic job"
---
By Wayne Washington
The Palm Beach Post
WEST PALM BEACH, Fla. — President Donald Trump capped a day spent largely at one of his golf clubs Wednesday with a brief visit to a West Palm Beach Fire Rescue station.
Firefighters and paramedics at Fire Station 2 on Dixie Highway south of Southern Boulevard formed a semi-circle around the president as he took pictures with them, shook hands with them and thanked them for their work.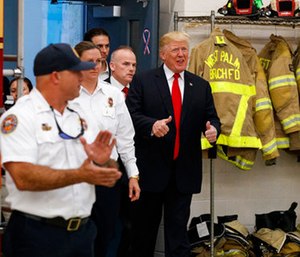 "People don't appreciate it the way they should, but we appreciate it," Trump said.
The stop — which lasted 10 to 15 minutes — accomplished Trump's goal of shining the media spotlight that follows him onto first responders. But it won't obscure the reality that Wednesday was spent largely at one of his properties, this one Trump International Golf Club in unincorporated West Palm Beach.
Reporters following the president were not given information on whether Trump hit the links or who might have joined him.
Before winning the presidency, Trump routinely blasted his predecessor, former President Barack Obama, for his forays to golf courses. Now in office, Trump spends his own time away from Washington, D.C., at one of his golf clubs, an action some critics view as an inappropriate presidential promotion of his personal interests.
None of that criticism came up when Trump visited Fire Station 2.
Trump did nearly all of the talking, sandwiching pats on the back for his economic stewardship and last week's passage of tax legislation between thanks for the first responders.
"County's doing well," he said. "We're getting reports with stocks. How's your 401K?"
Under Trump, the nation's stock market has continued a sharp upward climb that began under Obama. Unemployment has fallen to or near record lows, though many economists say presidents deserve only some of the credit for macro economic indicators like the stock market or the unemployment rate.
Trump and other Republicans have said last week's tax bill will make a hot economy even hotter.
"That tax cut bill is something," Trump said, telling first responders that AT&T and Wells Fargo are planning to give employees large bonuses because of it.
Trump's theme Wednesday was that his administration was rescuing a nation from economic danger.
"It's a big, beautiful ship we're turning around," Trump said.
The U.S. unemployment rate was 4.8 percent when Trump assumed the presidency in January, according to figures from the U.S. Bureau of Labor Statistics.
In January 2009, Obama's first month as president, it was 7.8 percent, a figure that would reach 10 percent in October 2009 before falling below 5 percent again by May of 2016.
At the fire station, Trump repeated a claim he made last week that he has signed more legislation into law at this point in his presidency than any president in American history.
Trump said the previous record holder was President Harry Truman.
National Public Radio, using figures from Congress, has reported that the 96 pieces of legislation Trump has signed into law during his first year on the job ranks him last among the most recent seven presidents.
President Jimmy Carter signed 249 bills into law in his first year, NPR reported. George H.W. Bush signed 242, and Bill Clinton signed 209 bills into law in his first year.
Obama, a favorite Trump foil, signed 124 bills into law during his first year in office.
And the Truman Library has tweeted that Trump isn't in their man's league on that score, either. The library estimates that Truman signed 240 to 250 bills into law during his first year in office.
Trump is expected to spend the rest of the week at his Mar-a-Lago estate on Palm Beach.
Copyright 2017 The Palm Beach Post
Just left West Palm Beach Fire & Rescue #2. Met with great men and women as representatives of those who do so much for all of us. Firefighters, paramedics, first responders - what amazing people they are!

— Donald J. Trump (@realDonaldTrump) December 27, 2017